Enchantment: The Art of Changing Hearts, Minds, and Actions (Paperback)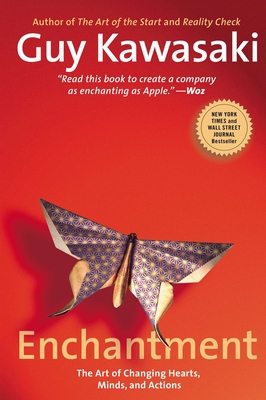 $16.00
ON HAND in at least ONE of our stores. Click through or call for up-to-the-minute availability.
Description
---
Enchantment, as defined by bestselling business guru Guy Kawasaki, is not about manipulating people. It transforms situations and relationships. It con­verts hostility into civility and civility into affinity. It changes skeptics and cynics into believers and the undecided into the loyal.
Enchantment can happen during a retail transaction, a high-level corporate negotiation, or a Facebook update. And when done right, it's more powerful than traditional persuasion, influence, or marketing techniques.
Kawasaki argues that in business and personal interactions, your goal is not merely to get what you want but to bring about a voluntary, enduring, and delightful change in other people. By enlisting their own goals and desires, by being likable and trustworthy, and by framing a cause that others can embrace, you can change hearts, minds, and actions.
About the Author
---
Guy Kawasaki is the former chief evangelist of Apple. He is also the cofounder of Alltop.com and a founding partner at Garage Technology Venture. His nine previous books include the international bestseller The Art of the Start, as well as Reality Check and The Macintosh Way. He lives in Silicon Valley with his wife and four children.
Praise For…
---
"An informative, concise guide from one of America's most influential and, yes, enchanting entrepreneurs." —Kirkus Reviews   "Kawasaki provides insights so valuable we all wish we'd had them first." —Robert B. Cialdini, author of Influence   "The power of a really good idea to transform the marketplace and individual customer experiences is huge, and this book offers a wealth of insights to help businesses and entrepreneurs tap into that potential." —Sir Richard Branson   "Guy has written the small-business manifesto. There is nothing more important for entrepreneurs than to enchant their customers, and Guy explains exactly how to do this." —Jane Applegate, small-business management expert and author of 201 Great Ideas for Your Small Business   "Guy teaches you how to pull gems from people's hearts and minds and how to become an effective practitioner of life's crucial domains. Clearly, I taught him well." —Dr. Phil Zimbardo, professor emeritus of psychology, Stanford University
  "Whether you're a C-level executive looking to lead people more effectively, a mid-level manager hoping to stand out, or a marketer trying to better spread your organization's message, you'll find Enchantment absolutely, well, enchanting."
—Jack Covert, 1-800-CEO-READ   "Read this book to create a company as enchanting as Apple."
—Steve Wozniak, co-founder of Apple

"The best overall treatise on interpersonal relationships since Dale Carnegie wrote How to Win Friends and Influence People."
—Michael Gartenberg, research director, Gartner

"You feel it when you drive a BMW, touch an Apple iPad, shop in a Sephora store, or buy shoes from Zappos. Kawasaki reveals how you can deliver the same enchanting experiences as these famous brands."
—Robert Scoble, Rackspace videoblogger