¡Brigadistas!: An American Anti-Fascist in the Spanish Civil War (Paperback)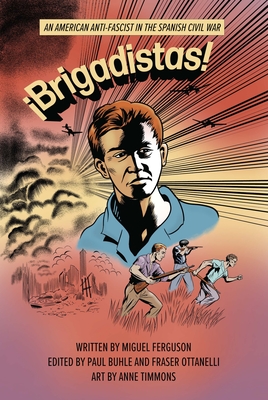 Description
---
A graphic history featuring the true story of three friends from Brooklyn who join in the global fight against fascism
In this exhilarating graphic novel about the Spanish Civil War, three American friends set off from Brooklyn to join in the fight
--
determined to make Spain "the tomb of fascism" for the sake of us all. Together they defy the U.S. government and join the legendary Abraham Lincoln Brigade, throw themselves into battle, and conduct sabotage missions behind enemy lines. As Spain is shattered by the savagery of combat during the Spanish Civil War (1936-1939), readers see the darkening clouds of the World War to come. Artist Anne Timmons has created a thrilling graphic novel in the spirit of the "war comic" genre that appeared after the attack on Pearl Harbor and the United States' entry into World War II. Drawing upon the real-life experiences of Lincoln Brigade veteran Abe Osheroff, writer Miguel Ferguson offers a lively, accessible resource based on actual events during the Great Depression and the Spanish Civil War.
Brigadistas
will stir the memories of older audiences who remember the Spanish Civil War as a time of unparalleled international solidarity and heartbreak, and it will expose young audiences to the passions, politics, and conflicts of a bygone era with striking contemporary relevance.
About the Author
---
Miguel Ferguson (Author) Miguel Ferguson is an award-winning professor, author, and educational entrepreneur. As the founder of the company OfCourse!, he creates innovative curriculum and provides training on public policy and social justice topics. Fraser M. Otanelli (Author) Fraser M. Ottanelli teaches US radicalism and immigration history at the University of South Florida. Paul Buhle (Foreword by) Paul Buhle, retired Brown University Senior Lecturer, has authored and edited more than forty books on the American and Caribbean Left, and is the editor of more than a dozen nonfiction graphic novels.