Bi-Rite Market's Eat Good Food: A Grocer's Guide to Shopping, Cooking & Creating Community Through Food [A Cookbook] (Hardcover)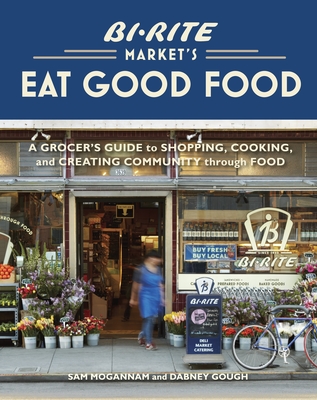 Description
---
A cookbook and market guide from the nation's premier neighborhood grocery store, featuring expert advice on how to identify the top ingredients in any supermarket and 90 vibrant recipes that make optimal use of the goods.
 
San Francisco's Bi-Rite Market has a following akin to a hot restaurant—its grocery goods and prepared foods have made it a destination for lovers of great food. In Eat Good Food, former chef turned market owner Sam Mogannam explains how to source and use the finest farm-fresh ingredients and artisanal food products, decipher labels and terms, and build a great pantry.
 
Eat Good Food gives you a new way to look at food, not only the ingredients you buy but also how to prepare them. Featuring ninety recipes for the dishes that have made Bi-Rite Market's in-house kitchen a destination for food lovers, combined with Sam's favorite recipes, you'll discover exactly how to get the best flavor from each ingredient. Dishes such as Summer Corn and Tomato Salad, Spicy String Beans with Sesame Seeds, Roasted Beet Salad with Pickled Onions and Feta, Ginger-Lemongrass Chicken Skewers with Spicy Peanut Dipping Sauce, Apricot-Ginger Scones, and Chocolate Pots de Crème will delight throughout the year.
 
No matter where you live or shop, Sam provides new insight on ingredients familiar as well unique, including:
 
• Why spinach from open bins is better than prepackaged greens
• What the material used to wrap cheese can tell you about the quality of the cheese itself
• How to tell where an olive oil is really from—and why it matters
• What "never ever" programs are, and why you should look for them when buying meat
 
More engaging than a field guide and more informative than a standard cookbook, and with primers on cooking techniques and anecdotes that will entertain, enlighten, and inspire, Eat Good Food will revolutionize the way home cooks shop and eat.
About the Author
---
Sam Mogannam is the second-generation owner of Bi-Rite Market and founder of the Bi-Rite family of businesses, which includes Bi-Rite Creamery, 18 Reasons, and Bi-Rite Farms. He also serves on the board of the National Association for the Specialty Food Trade. Sam has been featured in Food & Wine, Bon Appétit, Sunset, and the San Francisco Chronicle, and programs such as Foodcrafters. Sam stepped into the family grocery business in 1997, after working as a chef at his own restaurant, and transformed the market into a culinary landmark.
 
Dabney Gough is a graduate of California Culinary Academy, a former columnist with the San Francisco Chronicle, and a contributor to Fine Cooking and the Honolulu Weekly. She is the co-author of the forthcoming Bi-Rite Creamery's Sweet Cream and Sugar Cones and lives in Honolulu, Hawaii.
 
France Ruffenach's photography has appeared in countless books, magazines, and commercial campaigns. She has been twice nominated for the James Beard Award for best photography, and won in 2008 for her work on The Country Cooking of France. She lives in San Francisco.
Praise For…
---
Finalist, IACP Awards 2012, First Book Category

"The fat, photograph-rich book is part culinary manifesto, part recipe collection, [and part] insider's buyer's guide full of advice and tips for sustainable grocery shopping anywhere....At a time when the farm-to-restaurant movement has all but become a cliche, Mogannam is a pioneer in what might be called the farm-to-grocery store movement." 
—Barry Estabrook, The Atlantic, 11/21/11
 
"Eat Good Food makes a convincing case that sustainable grocery shopping is good for both customers and the community as a whole -- a concept that could work anywhere."
—The Atlantic, 11/21/11

"One of the most comprehensive guides to grocery shopping and choosing ingredients."
—SF Chronicle, Holiday Gift Guide, 11/20/11

"The recipes are well-tested, well-written and yield fantastic results.  If only all my textbooks in high school had been this useful..."
—Caroline Ford, author of FoodShed, 11/16/11
 
"An accessible, concise, and beautifully photographed primer for the home cook."
—Lena Brooks, author of A Happier Meal, 11/15/11

"A handy manual for inspired eating."
—TastingTable San Francisco, 11/7/11
 
"If you want to eat like we eat in the Bay Area, this is your book."
—Amy Sherman, Cooking with Amy, 11/1/11

"For the food shopper who thinks, the positively indispensable Bi-Rite Market's Eat Good Food is the holy reference guide/blue book that clues consumers in to the real value of what's on the grocery shelf. At a time when so much is being written about atrocities in our broken food system, consumers looking for sound, actionable advice on making grocery store purchasing decisions will appreciate this neatly compiled background check on everything from canned tuna to flour, fresh meat, fish and milk, and every manner of produce under the sun."
—Bay Area Bites, KQED blog, 10/31/11

"I am of the mind that the process of learning how to cook should always begin with learning how to shop."
—Chocolate & Zucchini, 10/25/11

"If it came from Bi-Rite, it was going to be good. This book captures that spirit and takes it out into the larger world and, hopefully, it will find its way into your kitchen where it will inform, encourage and inspire you to Eat Good Food."
—TheKitchn.com, 10/21/11

"Throughout this book, Mogannam illustrates the connection between store, shopper, producer, and environment - bringing into practical focus Bi-Rite's ethos of 'creating community through food.'"
—Joseph Tarnowski, Progressive Grocer, 10/20/11

"A yummy, practical book that invites readers to dig in."
—San Jose Mercury News, 10/19/11

"What makes the book particularly valuable is its comprehensive guide to ingredients found in the aisles of Bi-Rite - and in other stores like it - that helps readers become better-informed shoppers. The approach is a natural extension of a store that has built a business, and a community, around doing the same thing."
—San Francisco Chronicle, 10/16/11
 
"For the home cook who is flummoxed by meal planning, cooking in season, and buying the right groceries, this book is a road map.  For the more practiced cook who wants to refine and improve his or her ability to buy the best possible ingredients, this book is a practical translation of all the high-gloss mediated food language like "locavore", turning such concepts into something that can make an actual difference on your dinner table and food budget."
—The City Cook, Fall's New Cookbooks, 10/13/11

"San Franciscans, with their city's well-earned reputation as a culinary paradise, have no shortage of world-class restaurants and shops. At the apex stands Bi-Rite Market. . . . The shop's owner, Sam Mogannam has put together Bi-Rite Market's Eat Good Food, an intelligent and useful guide and cookbook framed by Mogannam's accomplished approach to cooking and shopping. Filled with practical tips and tasty recipes (and crammed with color photos and a vibrant layout), the book is the embodiment of the Bi-Rite experience. Even if you live far from San Francisco, Eat Good Food will make you feel like a shop regular. And that's a very good feeling indeed."
—Modern Tonic, 10/13/11

"Not only provides recipes for the kind of comfort food you'll find behind their glass case, but more importantly, the book functions as a guide to intelligent grocery shopping from the man who's spent years learning the art of buying."
—7x7 San Francisco, Fall's Best Local Cookbooks, 10/6/11

"A beloved West Coast institution is celebrated between the covers of this inspiring cookbook."
—Publishers Weekly, 7/11/11

"Like a trip to Bi-Rite Market, this book is super helpful, incredibly informative, fun, and full of great ways to use all the food that's in it. Spend twenty minutes shopping at Bi-Rite Market and you're pretty much guaranteed to leave with a basketful of well-made, great tasting, sustainably produced food, a lot of informative insights about what you bought, recipe ideas for how to serve it, and a big smile. With this book, you'll experience all of that—aside from the actual food—and will likely want to start putting what you've learned about smart, sustainable shopping to work right away at your local market and then later in your kitchen. If you live in the Mission, you probably already shop at Bi-Rite. If you live further afield, buy the book and visit the shop (as I do) every time you're in town."
—Ari Weinzweig, co-founder of Zingerman's Community of Businesses and author of Zingerman's Guide to Good Eating
 
"Eat Good Food is a lot more useful than your typical coffee-table cookbook. It's a teaching tool that's sure to change the way you shop, source, and cook good food."
—Charles Phan, James Beard Award–winning chef-owner of The Slanted Door