The Verbless Clause in Biblical Hebrew: Linguistic Approaches (Linguistic Studies in Ancient West Semitic #1) (Hardcover)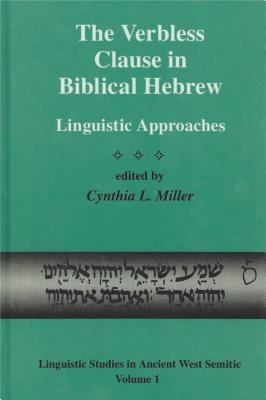 $59.95
Email or call for price.
Description
---
Thirty years after seminal studies by Francis I. Andersen and Jacob Hoftijzer, members of the 1996 SBL section on Linguistics and Biblical Hebrew gathered to reconsider the topic of the verbless clause in Hebrew. The results are published here, demonstrating the gains made in the interim and providing direction for future research.
Contents: Cynthia L. Miller, "Pivotal Issues in Analyzing the Verbless Clause"; Walter Gross, "Is There Really a Compound Nominal Clause in Biblical Hebrew"; Cameron Sinclair, "Are Nominal Clauses a Distinct Clausal Type?"; Randall Buth, "Word Order in the Verbless Clause: A Generative-Functional Approach"; Vincent DeCaen, "A Unified Analysis of Verbal and Verbless Clauses within Government-Binding Theory"; J. W. Dyk and E. Talstra, "Paradigmatic and Syntagmatic Features in Identifying Subject and Predicate in Nominal Clauses"; Takamitsu Muraoka, "The Tripartite Nominal Clause Revisited"; Alviero Niccacci, "Types and Functions of the Nominal Sentence"; Kirk E. Lowery, "Relative Definiteness and the Verbless Clause"; Lenart J. de Regt, "Macrosyntactic Functions of Nominal Clauses Referring to Participants"; E. J. Revell, "Thematic Continuity and the Conditioning of Word Order in Verbless Clauses"; Ellen van Wolde, "The Verbless Clause and Its Textual Function