The Revolutionaries Try Again (Paperback)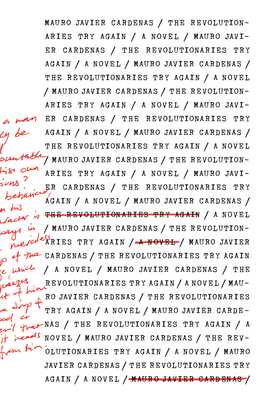 $16.95
Temporarily Unavailable
Description
---
Extravagant, absurd, and self-aware, The Revolutionaries Try Again plays out against the lost decade of Ecuador's austerity and the stymied idealism of three childhood friends--an expat, a bureaucrat, and a playwright--who are as sure about the evils of dictatorship as they are unsure of everything else, including each other.
Everyone thinks they're the chosen ones, Masha wrote on Antonio's manuscript. See About Schmidt with Jack Nicholson. Then she quoted from Hope Against Hope by Nadezhda Mandelstam, because she was sure Antonio hadn't read her yet: Can a man really be held accountable for his own actions? His behavior, even his character, is always in the merciless grip of the age, which squeezes out of him the drop of good or evil that it needs from him. In San Francisco, besides the accumulation of wealth, what does the age ask of your so called protagonist? No wonder he never returns to Ecuador.
Mauro Javier Cardenas grew up in Guayaquil, Ecuador, and graduated with a degree in Economics from Stanford University. Excerpts from his first novel, The Revolutionaries Try Again, have appeared in Conjunctions, the Antioch Review, Guernica, Witness, and BOMB. His interviews and essays on/with L szl Krasznahorkai, Javier Marias, Horacio Castellanos Moya, Juan Villoro, and Antonio Lobo Antunes have appeared in Music & Literature, San Francisco Chronicle, BOMB, and the Quarterly Conversation.