Dune: The Machine Crusade (Compact Disc)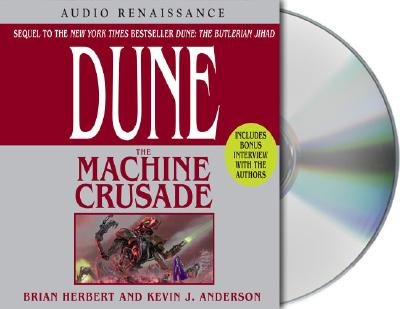 Not available to order
Stock uncertain--should fulfill within 10 days or so
Description
---
The breathtaking vision and incomparable storytelling of Brian Herbert and Kevin Anderson's "Dune: The Butlerian Jihad," a prequel to Frank Herbert's classic "Dune," propelled it to the ranks of speculative fiction's classics in its own right. Now, with all the color, scope, and fascination of the prior novel, comes "Dune: The Machine Crusade."
More than two decades have passed since the events chronicled in "The Butlerian Jihad." The crusade against thinking robots has ground on for years, but the forces led by Serena Butler and Irbis Ginjo have made only slight gains; the human worlds grow weary of war, of the bloody, inconclusive swing from victory to defeat.
The fearsome cymeks, led by Agamemnon, hatch new plots to regain their lost power from Omnius--as their numbers dwindle and time begins to run out. The fighters of Ginaz, led by Jool Noret, forge themselves into an elite warrior class, a weapon against the machine-dominated worlds. Aurelius Venport and Norma Cenva are on the verge of the most important discovery in human history-a way to "fold" space and travel instantaneously to any place in the galaxy.
And on the faraway, nearly worthless planet of Arrakis, Selim Wormrider and his band of outlaws take the first steps to making themselves the feared fighters who will change the course of history: the Fremen.
Here is the unrivaled imaginative power that has put Brian Herbert and Kevin Anderson on bestseller lists everywhere and earned them the high regard of readers around the globe. The fantastic saga of "Dune "continues in "Dune: The Machine Crusade."

About the Author
---
Brian Herbert, the son of Frank Herbert, is the author of numerous acclaimed science fiction novels and has been nominated for the Nebula Award. He lives in Washington State.

Kevin J. Anderson has written thirty national bestsellers and has been nominated for the Nebula Award, the Bram Stoker Award and the Science Fiction Chronicle Reader's Choice Award.

Scott Brick has read a number of titles in Frank Herbert's bestselling "Dune" series, and he won the 2003 Science Fiction Audie Award for "Dune: The Butlerian Jihad." Brick has narrated for many popular authors, including Michael Pollan, Joseph Finder, Tom Clancy, and Ayn Rand. In 2007, Brick was named "Publishers Weekly"'s Narrator of the Year.