Cottonlandia (Juniper Prize for Poetry) (Paperback)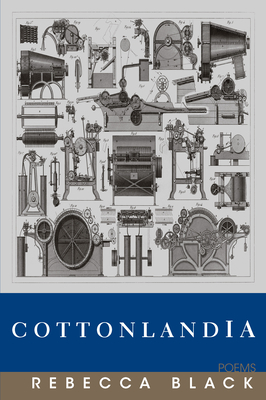 $18.65
Temporarily Unavailable
Description
---
The poems in Rebecca Black's first volume, Cottonlandia, move through myth and landscape, beginning in the deep South's "shimmer and tar" and ending in the "soot and orange dolor" of the California desert. Cottonlandia conjures a proto-continent where fashionable golems pose for antique photographs and nineteenth-century naturalists wander into the melee of the civil rights struggle in the South.

By turns haunting and comic, Black's poems describe the archaeology of the apocalypse. Countesses leave behind poisonous snapshots, lovers examine their shapes in the mirror, and Seminoles return for skeletons arranged illegally in exhibits, even as floods force antebellum coffins to rise.

In the title poem, reproduced on this page, the lines of a spiritual splinter and circle through a loose narrative, evoking the delirium of class and race in the author's Georgia hometown. Throughout the volume, poems quarrel with primal forces, threading the needle of historical oblivion with a dark, intelligent, and incantatory voice.
About the Author
---
A former Wallace Stegner and NEA fellow, Rebecca Black is an assistant professor in the MFA program at the University of North Carolina, Greensboro. In 2011, she was a Fulbright scholar at the Seamus Heaney Center for Poetry in Belfast, Northern Ireland. Her poems have been published in Poetry, Poetry Daily, Pleiades, Colorado Review, Virginia Quarterly Review, and many other journals. Online, poems and interviews can be found at From the Fishouse and Blackbird magazine. Originally from Albany, Georgia, Black has a B.A. from Tulane University and an M.F.A. from Indiana University. Previously, she has taught at Santa Clara University and in the Writer's Studio at Stanford University. She and her family now divide their time between North Carolina and San Francisco.Her website is: http://cottonlandia.com/
Praise For…
---
"It is rare to encounter a first collection that possesses the confidence and breadth of Rebecca Black's Cottonlandia. Black displays an elegant lyric concision and above all an abiding historical awareness, one refreshingly untainted by sensationalism or breezy ironies. Her reckonings, her 'sweet transmigrations,' manage to be personal and communal at once; this is the work of a poet of unusual promise."—David Wojahn

"With her debut, Rebecca Black's work strides among us, all confidence and grace. Whether considering family history or the history of the cotton gin, Cottonlandia stuns with poems that invent, inventory, and interrogate the American South of her childhood, and its legacy of segregation and song. Black's is a voice full of other voices, from tough-girl Mephista to tender prayer; hers is a poetry full of promise and pain, migrating from Otis Redding to nanotechnology. Cottonlandia is a book steeped in the past, but whose time is now."—Kevin Young