The Fertility Doctor's Guide to Overcoming Infertility: Discovering Your Reproductive Potential and Maximizing Your Odds of Having a Baby (Paperback)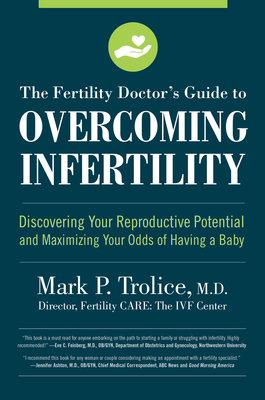 $24.99
ON HAND in at least ONE of our stores. Click through or call for up-to-the-minute availability.
About the Author
---
Mark Trolice, MD, is a leading medical expert on fertility and a physician who has counseled many hundreds of couples as they cope with and solve their infertility challenges. He is board-certified in both OB/GYN and REI (Reproductive Endocrinology and Infertility). The clinic he directs, Fertility CARE: The IVF Center is in Winter Park, Florida, and he is a Professor of Obstetrics and Gynecology at the University of Central Florida in Orlando. He lectures frequently to experts in his field, but also speaks often to lay audiences of prospective parents. He is one of the few infertility specialists in the world to host an infertility podcast. On his podcast, Fertility Health, he reviews and discusses the most recent infertility topics, trends, and technology. He has appeared more than one hundred times in newspapers, on websites, and on television stations as a friendly and authoritative voice who can speak directly to parents about their concerns. He lives in Orlando, Florida.
Praise For…
---
"This book is a must read for anyone embarking on the path to starting a family or struggling with infertility. It is informative and easy-to-read and has up-to-date information on family building in the modern world. Highly recommended!"
- Eve C. Feinberg, MD, OB/GYN, Department of Obstetrics and Gynecology, Northwestern University, and President of the Kevin J. Lederer Life Foundation
—
-
"Any woman or couple dealing with fertility issues knows that it is much more than a medical or physical process. It is emotional, psychological and social as well. Dr. Trolice addresses the topic of infertility in a caring, straightforward, and medically sound manner. I recommend this book for any woman or couple considering making an appointment with a fertility specialist."
- Jennifer Ashton, MD, OB/GYN, Chief Medical Correspondent for ABC News and "Good Morning America"
—
-
"Dr. Mark Trolice, an eminent reproductive endocrinologist, has done women and couples an amazing service in authoring this guide to infertility treatment. Information is power, and thus far, there is no other book that so clearly explains the treatments available to women and couples in one resource. This book makes what can be a harrowing experiencing much more manageable."
- Amanda Itzkoff, MD, New York City
—
-
"Dr. Trolice has accomplished something very special with this book. He combines cutting-edge science, compassionate information, and the author's own painful journey to parenthood in a unique way that helps the reader move effectively toward building a family."
- Alice Domar, PhD, author of "Conquering Infertility" and Executive Director of the Alice Domar Center for Mind/Body Health
—
-
"I am so grateful Dr. Trolice is using his expertise—and his own personal struggle—to help others to be positive and proactive when it comes to their infertility. Dr. Trolice will lift you up and over infertility's emotional roller-coaster, so you can thrive with more understanding and hope."
- Kyra Phillips, ABC News correspondent and author of "The Whole Life Fertility Plan"
—
-
"This is a delightful book. Dr. Trolice traces the journey from infertility to parenthood in a personal, heartfelt manner. Medical facts are presented in an easy-to-understand way, and the personal voice is always heard. This is a book you will appreciate and one you won't forget."
- Richard J. Paulson, MD, OB/GYN, Alia Tutor Chair in Reproductive Medicine and Chief, Division of Reproductive Endocrinology and Infertility, Keck School of Medicine, University of Southern California
—
-