Useless Landscape, or A Guide for Boys: Poems (Hardcover)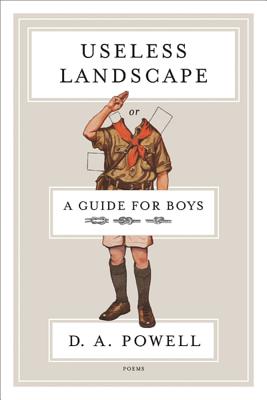 Not available to order
Stock uncertain--should fulfill within 10 days or so
Description
---
*Winner of the 2012 National Book Critics Circle Award for Poetry*
I have this rearrangement to make:
symbolic death, my backward glance.
The way the past is a kind of future
leaning against the sporty hood.
—from "Bugcatching at Twilight"
In Useless Landscape, or A Guide for Boys - D. A. Powell's fifth book of poetry - the rollicking line he has made his signature becomes the taut, more discursive means to describing beauty, singing a dirge, directing an ironic smile, or questioning who in any given setting is the instructor and who is the pupil. This is a book that explores the darker side of divisions and developments, which shows how the interstitial spaces of boonies, backstage, bathhouse, or bar are locations of desire. With Powell's witty banter, emotional resolve, and powerful lyricism, this collection demonstrates his exhilarating range.
About the Author
---
D. A. Powell is the author of five collections of poetry, including Chronic, winner of the Kingsley Tufts Poetry Award. He lives in San Francisco.
Praise For…
---
"With his typical wry eroticism, an eagle eye for the places where men converge, and a compass that points always to desire, poet D. A. Powell leads us on a tour through a Useless Landscape, or A Guide for Boys, from gay bars to bathhouses and into the backwoods." —Vanity Fair, "Hot Type"
"Powell has a perfect ear. . . . [His] great subject is passion, in all its stages and manifestations: passion sought, spent, relived in the mind, played out in language." —Dan Chiasson, The New Yorker
"Taut, edgy, and erotic. . . . [Powell's] wit and brazen perspective make him a poet's poet." —The Washington Post
"In this, his fifth and most elegant and accessible book, [Powell] watches himself aging, his disease making off with his body, his energy and his hope--but not his humor: 'You face your wrinkles, daily, in the mirror. / But the wrinkles are so slimming, they rather flatter.' He entreats us, by book's end, to 'triumph over death with me.' It's an invitation--and a poet--you won't be able to resist." —National Public Radio, "Not Your Parents' Poems: A 2012 Poetry Preview"
"Don't be conused by the title: [Powell] writes rollicking poetry for adults." —Los Angeles Times
"[D. A. Powell's] masterful fifth book, Useless Landscape, or A Guide for Boys, digs deep into the tar pit of language. . . . And while the language is fresh and modern, this is a book about the oldest themes: how quickly time passes, how the past can be regained--if only momentarily--in art, and how to accept the finality of death. . . . Useless Landscape is sad and profound, but also wildly brave, often funny, and past a thrilling point of no return." —Craig Morgan Teicher, National Public Radio
"Useless Landscape might turn out to be the most affecting, as well as the most disturbing, book of poems published this year." —Stephen Burt, Boston Review
"[Powell] presents a finely textured atlas of experience and desire. . . . Powell is a renowned formalist; though he does not hew rigidly to rhyme or metrical constraints, there's a chiseled architectonics to his verse. These poems double back on one another, fugally, repeated words acting as secret passageways running from page to page. . . . These elegantly groomed poems give shape to ineffables of love, youth, memory, illness, death." —San Francisco Chronicle
"Powell's fifth collection is a stunner. . . . Memory, sensuality, and time all tangle with each other--altering each other as they go. Powell takes us beyond the 'salty declivites' of a Turkish bath into a wilderness of desire, a 'region of want.' There could be no sounder guide." —Boston Globe
"Few contemporary American poets can lay a better claim to the mantle of a poet of poise than Powell." —David Biespiel, The Oregonian
"Powell's poems are steeped in the grit of American life, the camp, the tragedy, the triumph. Contemporary and historical at once, and with unimpeachable style, we think we'll be talking about this writer for a long time." —Flavorwire, "Ten Reasons Poetry's Not Dead"
"Powell has now turned the corner from promising new poet into established power. [Useless Landscape] condenses his obsessions into poems clearer and more compact than ever, some scathing and others comedic, some based on life stories and others built on puns. . . . Powell, with his range of form and line, his dark but vivid humor, and his commitment to Romantic traditions, is set apart. . . . This book will belong on many lists of the year's best." —Publishers Weekly (starred review)
"Poems by Powell are the Apple products of the literary world: sleek, urbane, well-designed marvels. . . . Powell is as good a technician as anyone in the business, and his latest book, both smart and accessible, will have award panels queuing up to sing its praises." —Library Journal
"D. A. Powell tautens his typically sassy-tongued yet emotionally involved writing in [Useless Landscape], which explores the bars, bathhouses, and backstage spaces where passion flares." —Barbara Hoffert, Library Journal, PrePub Alert
"Powell confronts physical and emotional environments in the kinds of translucent lyrics that have gained him critical appreciation and a reputation for accessibility. . . . Powell flexes his command of inflectional forms, using subjunctive constructions to pose some of the most wrenching, lovely unrealities since his initial triptych [Tea, Lunch, and Cocktails] and imperatives to exploit creeping, linguistic ambiguity." —Booklist
"Combining his pleasure in puns and slang with more traditional language and structure (even sestinas and sonnets), Powell drifts over a landscape of central California flora, gay sex, 1970s funk, the physiology of aging, insect control and even high school marching bands. . . . [Useless Landscape is] a finely tuned collection from one of America's best contemporary poets." —Shelf Awareness
"The sonnet, that old form of poetry that Shakespeare made famous, is invigorated in D. A. Powell's new book . . . Powell navigates his way through [scenarios] that could easily become [caricatures], or that could be viewed as self-indulgent, and gives us instead what he always gives us: a portrait of unresolved complexity." —The Fine Print, New York Daily News
"[Useless Landscape is] a volume full of revealing self-conflict; it includes clarity and opacity, evasions and embraces, rhetorical flourishes and potty mouths . . . Powell has great stylistic range." —Los Angeles Review of Books