Nocturnal Admissions: Behind the Scenes on the Sunday Night Sex Show (Paperback)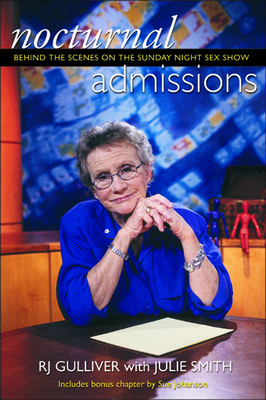 $17.95
ON HAND in at least ONE of our stores. Click through or call for up-to-the-minute availability.
Description
---
A witty and irreverent look at the collision of two dangerous subjects -- live television and sex. "Sue, I have a question about vaginal odour." The young woman on the phone sounds earnest. On the television screen, the sixty-something host leans forward with the concern of an attentive great aunt, listening intently. "Yes?" It's late Sunday evening, and all across Canada, 300,000 viewers are watching The Sunday Night Sex Show, eavesdropping on this most intimate of conversations. "Well, I don't think mine smells very good, and a friend told me I should take a bath in vinegar." Without a second's hesitation, Sue Johanson exclaims: "What are you trying to do? Pickle it? " And then she laughs, a warm, inclusive, non-judgmental laugh that tells the young woman on the phone that she's poking fun at the suggestion, not the caller. Viewers chuckle at the gag, and then settle back to listen to the country's best-loved sexual educator give a well-informed, honest answer to an honest question. For six seasons, Sue Johanson has been ruining people's Mondays by making them stay up late Sunday night. Sex sells, but it's really not the topic that keeps viewers tuning in. It's Sue. They love her. In this book, RJ Gulliver, Sue's long-time director and consultant, tells the stories behind the shows. Transcripts of classic phone calls (both funny and poignant), stories of the erotic toys that didn't make it on the air, what goes on behind the cameras, and Sue's own story fill this book that will make you laugh out loud, and give you a new appreciation of Canada's favourite sex-ed teacher. It also includes a chapter written by Sue about the best herbal remedies to common sexual problems. In Canada, if Saturday night belongs to hockey, Sunday night belongs to Sue.
About the Author
---
RJ Gulliver has worked in television for a quarter century. He directs and consults on the Sunday Night Sex Show. Past assignments have included twelve seasons of Dini for CTV and the first two seasons of Canadian House & Home. This is his second book. Julie Smith is the Director of Independent Production for WTN and producer of the Sunday Night Sex Show. Her production career includes several award-winning documentaries. Sue Johanson is Canada's foremost sexual educator, host of the Sunday Night Sex Show, author of three books on sexuality, and recipient of the Order of Canada. She speaks to thousands of students each year on the subject of sex and bakes fabulous sourdough biscuits.