All About the Story: News, Power, Politics, and the Washington Post (Hardcover)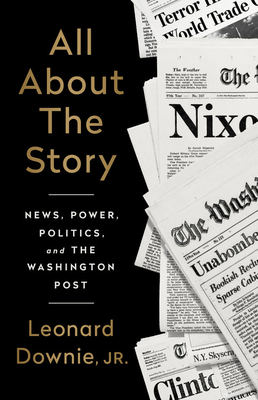 $30.00
ON HAND in at least ONE of our stores. Click through or call for up-to-the-minute availability.
Description
---
At a time when the role of journalism is especially critical, the former executive editor of the Washington Post writes about his nearly fifty years at the newspaper and the importance of getting at the truth.
In 1964, as a twenty-two-year-old Ohio State graduate with working-class Cleveland roots and a family to support, Len Downie landed an internship with the
Washington Post
. He would become a pioneering investigative reporter, news editor, foreign correspondent, and managing editor, before succeeding the legendary Ben Bradlee as executive editor.
Downie's leadership style differed from Bradlee's, but he played an equally important role over more than four decades in making the Post one of the world's leading news organizations. He was one of the editors on the historic Watergate story and drove coverage of the impeachment of President Bill Clinton. He wrestled with the Unabomber's threat to kill more people unless the Post published a rambling 30,000-word manifesto and he published important national security stories in defiance of presidents and top officials. He managed the Post's ascendency to the pinnacle of influence, circulation, and profitability, producing prizewinning investigative reporting with deep impact on American life, before the digital transformation of news media threatened the Post's future.
At a dangerous time, when health and economic crises and partisanship are challenging the news media, Downie's judgment, fairness, and commitment to truth will inspire anyone who wants to know how journalism, at its best, works.
About the Author
---
Leonard Downie, Jr. was the Executive Editor of the Washington Post . Downie has spent his entire journalistic career at the paper, where he started as a summer intern reporter in 1965. He soon became a prize-winning investigative reporter on the paper's Metro desk. In 1974, when he was Assistant Managing Editor for Metropolitan News, Downie oversaw the paper's Watergate coverage. Downie has also served as the Post 's London correspondent before becoming National Editor in 1982. In 1984, he was named Managing Editor of the Washington Post , a position he held until 1991, when he was named Executive Editor. Under Downie's leadership, the paper won 25 Pulitzer Prizes including three Pulitzer gold medals for public service.
Praise For…
---
"Downie's memoir could be characterized as a series of war stories best enjoyed by journalists, past and present. This would be a disservice to history lovers who will relish his behind-the-scenes narratives of some of the world's biggest stories during his 44 years at The Washington Post.... "All About the Story: News, Power, Politics, and The Washington Post" is written with history in mind, and Downie's role in bringing it to life for readers. From his account of Watergate and his riveting timeline of the Jonestown massacre to his confrontations with Bill and Hillary Clinton, Downie's book is a celebration of what strong journalism can accomplish. It is also a cautionary tale about what's at stake if our financially imperiled profession does not find new ways to remain viable. Plus, it's full of great gossip."
—
Connie Schultz, Washington Post
"superb...Downie shows the vital role a free press plays in our democracy. His splendid recounting should be of interest to everyone."—
Bookpage
"An absorbing career memoir and an illuminating history of the Post's news coverage during the last 50 years."
—
Kirkus Starred Review
"Superb...Downie shows the vital role a free press plays in our democracy. His splendid recounting should be of interest to everyone."
—
Bookpage
"Downie is extremely well-placed to offer a history of the last 50 years in news, from the assassination of Martin Luther King Jr., to Watergate, the Jonestown Massacre, Bill Clinton's impeachment, the Unabomber, the Sept. 11 attacks, and the invasion of Iraq. But
All About the Story
also functions as a primer on journalistic ethics...
All About the Story
has obvious value for anyone looking to understand the ways news has changed in the past five decades."—
NPR.org
"Elegiac.... At a time when the news media itself is increasingly becoming part of the story, this insider take on newsroom culture resonates."
—
Publishers Weekly
"As befitting a master editor, Downie's memoir is both tight and revelatory....At a time when the press is under relentless attack from the Trump administration, Downie's engrossing memoir reminds readers of the personal sacrifices journalists make in pursuit of a story and the rigorous criteria they apply in delivering the news."
—
Booklist
"Leonard Downie, Jr.'s excitement at being considered for the managing editor position at The Washington Post is evident in narrator Robert Petkoff's voice… Listeners get a tour of contemporary history, along with dramatic personal experiences such as a mission to Guyana when Jonestown's mass suicides unfolded and an interview with Margaret Thatcher."
—
AudioFile
"Leonard Downie's colorful and insightful account of a career dedicated to producing honest journalism is exactly what we need in this era when fury and fiction have distorted our politics and even our response to pandemics. His stories provide a great guide not only for a return to better journalism but also to a better society."
—
Walter Isaacson, author of Leonardo Da Vinci and Steve Jobs
"More than any journalist I've known, Len Downie is what his title states - All About the Story. His book teems with captivating chapters taking us inside the Washington Post as it covers the most important events of our times. But above all else, it serves as a powerful testament to the essential role a free press plays in the American democracy."
—
David Maraniss, Pulitzer Prize-winning journalist and author
"Len Downie, the tough and fearless editor of the legendary Washington Post, has always had the scoop and now takes us inside the tense showdowns at the CIA and Oval Office to give us the story behind those stories, many of which changed history. At a moment when autocrats around the world including inside the U.S. are trying to destroy the credibility of the mainstream media, Downie's account is an indispensable and eye-opening defense of the truth, and the journalists who tell it."
—
Jane Mayer, staff writer at The New Yorker and author of Dark Money
"One of the great editors in the history of American journalism tells his own compelling story of rising to the top of The Washington Post newsroom."
—
Kevin Merida, Editor-in-Chief of ESPN's The Undefeated and former Managing Editor of The Washington Post