Disgraceland: Musicians Getting Away with Murder and Behaving Very Badly (Hardcover)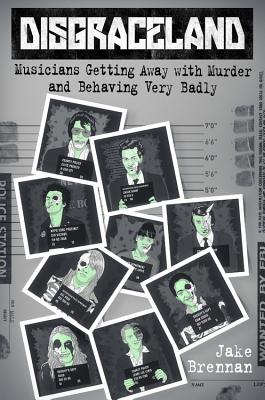 $28.00
Temporarily Unavailable
Description
---
From the creator of the popular rock 'n' roll true crime podcast, DISGRACELAND comes an off-kilter, hysterical, at times macabre book of stories from the highly entertaining underbelly of music history.
You may know Jerry Lee Lewis married his thirteen-year-old cousin but did you know he shot his bass player in the chest with a shotgun or that a couple of his wives died under extremely mysterious circumstances? Or that Sam Cooke was shot dead in a seedy motel after barging into the manager's office naked to attack her? Maybe not. Would it change your view of him if you knew that, or would your love for his music triumph?

Real rock stars do truly insane thing and invite truly insane things to happen to them; murder, drug trafficking, rape, cannibalism and the occult. We allow this behavior. We are complicit because a rock star behaving badly is what's expected. It's baked into the cake. Deep down, way down, past all of our self-righteous notions of justice and right and wrong, when it comes down to it, we want our rock stars to be bad. We know the music industry is full of demons, ones that drove Elvis Presley, Phil Spector, Sid Vicious and that consumed the Norwegian Black Metal scene. We want to believe in the myths because they're so damn entertaining.

DISGRACELAND is a collection of the best of these stories about some of the music world's most beloved stars and their crimes. It will mix all-new, untold stories with expanded stories from the first two seasons of the Disgraceland podcast. Using figures we already recognize, DISGRACELAND shines a light into the dark corners of their fame revealing the fine line that separates heroes and villains as well as the danger Americans seek out in their news cycles, tabloids, reality shows and soap operas. At the center of this collection of stories is the ever-fascinating music industry--a glittery stage populated by gangsters, drug dealers, pimps, groupies with violence, scandal and pure unadulterated rock 'n' roll entertainment.


About the Author
---
Jake Brennan is a Boston based musician who launched, Disgraceland, "a rock 'n' roll true crime podcast" in February 2018 to great acclaim. Jake grew up in music. He saw the Ramones play live when he was ten years old and began recording and touring at a young age, first with his band Cast Iron Hike and then with his bands the Confidence Men and Bodega Girls. His songs have been featured in film and television, however Jake thinks his coolest musical accomplishment was opening for Fugazi "back in the day." He lives in North Boston with his wife and two sons.
Praise For…
---
"Through his gritty and powerful stories, Brennan breathes new life into the music and musicians we've known all our lives."—Aaron Mahnke, author and creator of Lore

"Jake Brennan is writing from a crossroads- the junction of music and crime. One road leads to the Elysian Fields, the other, to the Underworld. Some of these magicians have been down both."—T Bone Burnett, Oscar and Grammy winning musician and producer

"Mix the true crime mythology of rock 'n' roll with a dash of transgressive fiction, then add 10 cc of adrenaline and twice that in anabolic steroids. Employing due caution, enter Jake Brennan's brain as translated in Disgraceland to observe the dark results--Elvis locked in unholy union with the parasitic Colonel Tom Parker, why Jerry Lee Lewis was called the Killer, Altamont. Axl Rose. Chuck Berry. And, of course, the truly twisted Phil Spector. It all works brilliantly because Jake genuinely loves rock 'n' roll just as much as he enjoys indulging his imagination and wickedly stylish sense of humor."—Dennis McNally, author of A Long Strange Trip: The Inside History of the Grateful Dead

"Following on from the addictive podcast, this book is an absolute treasure trove of fascinating fun facts, salacious gossip, hilarious anecdotes and sober reflections on the darker corners of human behavior and art. I devoured it, and it left me wanting more."
— Frank Turner, Singer-songwriter and musician

"This gossipy account is sure to fascinate music fans and true crime lovers."—Publisher's Weekly

"This book is a real page turner."—Forbes

"Brennan has carved himself a fascinating niche, telling engaging, bloody, and occasionally uproarious stories of true crime from the annals of rock 'n roll. There's no shortage of epic material, and Brennan is a skilled storyteller."—Crimereads

"A fantastic retelling of their stories based on facts injected with the author's stylized interpretation. Readers open to a bit of fact-based fiction about the bad behaviour of pop-music iconswill enjoy the book."—Winnipeg Free Press