Space Bandits (issues 1-5) : Special edition with exclusive cover and vinyl sticker (Paperback)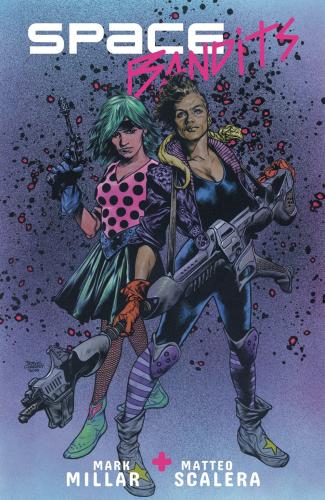 $16.99
ON HAND in at least ONE of our stores. Click through or call for up-to-the-minute availability.
Description
---
Thena Khole and Cody Blue are among the universe's most-wanted felons. Each the leader of their own criminal ops, they run heists across the galaxies-hopping from ship to ship to fleece everyone inside. But when both women are betrayed by their crews, the bandits only have one thing on their minds: REVENGE. Collects SPACE BANDITS #1-5
About the Author
---
About the creator:
Mark Millar is a New York Times bestselling author, Hollywood producer and now president of his own division at Netflix. Millar's creator-owned books Kick-Ass, Wanted, and Kingsman: The Secret Service have all been adapted into hugely successful Hollywood franchises. Since selling his publishing company to Netflix in 2017, Millar also signed on to exclusive create comics, TV series, and movies for the streaming service. Adaptations of Jupiter's Legacy, The Magic Order, Reborn, Sharkey the Bounty Hunter, American Jesus, Empress and Super Crooks are among those currently being made right now with Jupiter's Legacy the first to be streamed.
About the illustrator:
> Matteo Scalera was born in Parma, Italy in 1982. His professional career started in 2008, with the publication of Hyperkinetic, a four-issues series by Image Comics. Since then, he's worked on Incorruptible, Irredeemable, Valen the Outcast (Boom! Studios), Deadpool, Secret Avengers, Indestructible Hulk (Marvel), Batman, Red Hood and the Outlaws (DC Comics), Dead Body Road, Black Science (Image Comics).