Paper Airplane Fold-A-Day 2021 Calendar (Calendar)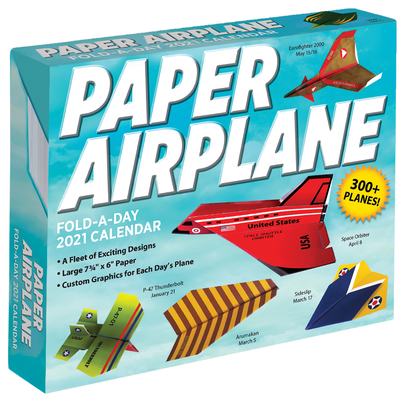 $16.99
ON HAND in at least ONE of our stores. Click through or call for up-to-the-minute availability.
Description
---
Fold hundreds of planes for an enviable aeronautic fleet with the Paper Airplane Fold-A-Day 2021 Calendar!
Paper-airplane engineers Kyong Lee and David Mitchell combine forces to present
300-plus designs from 40 original models
based on real-life military planes––such as MiGs, fighter jets, and drones––plus commercial aircraft and others for a year's worth of flying fun! Large size paper (7¾" x 6") folds into airplanes large enough to really fly.
Paper size is proportionate to standard 8½" x 11", so you can fold these planes using printer paper, too.
Illustrated, step-by-step folding instructions on each calendar page.
Unique, fold-around-box turns into the calendar stand.
About the Author
---
Kyong Lee
holds a doctorate in electrical engineering and has worked for more than twenty-five years in the aerospace industry. Lee has designed over one hundred unique paper airplanes over the last thirty years. His coauthored
Paper Airplane Fold-a-Day
calendar has been popular worldwide since its first publication in 2006. Every day hundreds of paper airplane enthusiasts visit his website at
www.amazingpaperairplanes.com
.
David Mitchell
is a prolific inventor of original paperfolds, action novelties, and manipulative puzzles. His coauthored
Paper Airplane Fold-a-Day
calendar has been popular worldwide for several years. Mitchell is also the author of many books on specialist aspects of origami, such as
Origami
(Dover Publications),
Sticky Note Origami
(Sterling),
Mathematical Origami
(Tarquin), and
Complete Origami
(Collins & Brown).