Rainbow Relatives: Real-World Stories and Advice on How to Talk to Kids About LGBTQ+ Families and Friends (Paperback)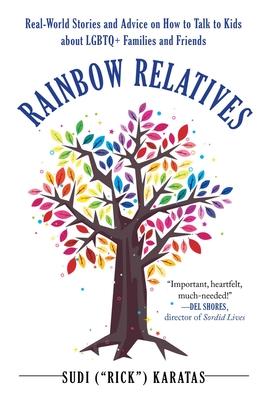 $16.99
ON HAND in at least ONE of our stores. Click through or call for up-to-the-minute availability.
Description
---
Whether you have your own questions because you're preparing to come out to your kids, or you aren't sure how to explain to your kids why their uncle has a boyfriend or why their friend has two mommies, this book can help. With an entertaining and educational approach to educating yourself and your peers about the issues and topics surrounding the LGBTQ+ community, Rainbow Relatives will provide answers to your kids' questions and help you raise them to be open-minded and accepting adults.

First and foremost, this book will help you approach the conversations you need to have and predict what you can expect from them. Author Sudi Karatas tells a variety of stories, such as that of a Mormon woman's transition from fighting against gay rights to becoming a crusader for them. Also included are the voices of filmmakers, actors, musicians, mental health professionals, and more.

Through Rainbow Relatives, Karatas helps parents support, advocate for, and educate their children, relatives, and family friends.
About the Author
---
Sudi "Rick" Karatas, while not a doctor, is an M.D. (Mediterranean Dude). His given name is Sudi but he also goes by Rick because as a Gemini he needed a name for each personality. He has written many screenplays, songs, and sketches. This is his debut book. He loves writing everything (except checks). He co-wrote the feature film Walk a Mile in My Prada?s and the screenplay Charlie?s Dream, a family inspirational film. Karatas grew up in Syosset, NY and now resides in Van Nuys, CA.
Praise For…
---
"This book has lots and lots of good info—told with a sense of humor. That's the best way!" —Betty DeGeneres, author of Love, Ellen: A Mother/Daughter Journey

"[An] important, heartfelt, much-needed book!" —Del Shores, director of Sordid Lives

"A warm, witty and handy guide for anyone who plans to have a gay child. Wait. Nobody plans for that? That's the point. It could happen to any of us, even Ann Coulter. She could have a great-grandchild any day now. Ann, this book is invaluable. Buy it!" —Bruce Vilanch, Emmy Award-winning comedy writer

"The book is fantastic! Easy read. Fun read. Many points of view, and of course thoughtful, funny, loving, and thought-provoking. It really is a must for everyone that knows someone LGBT or that is LGBT or might be LGBT or never met anyone LGBT—I believe that covers everyone on the planet!" —Steven Tyler, actor

"Rainbow Relatives is a must 'go-to' guide for folks wanting real stories, interviews, and advice from parents, therapists, and celebrities about their own experiences with their journeys as an LGBTQ person in today's modern world. This book will help you navigate the conversations you may want to have with your families in regards to this topic. Author Sudi Karatas uses humor and practical examples in different scenarios. I highly recommend this book for all." —Trisha Ventker, author Internet Dates from Hell

"For those who have, or may be, the rainbow sheep of their family, Sudi "Rick" Karatas's new book, Rainbow Relatives, is a must-read." —Baltimore OUT Loud

"This book has lots and lots of good info—told with a sense of humor. That's the best way!" —Betty DeGeneres, author of Love, Ellen: A Mother/Daughter Journey

"[An] important, heartfelt, much-needed book!" —Del Shores, director of Sordid Lives

"A warm, witty and handy guide for anyone who plans to have a gay child. Wait. Nobody plans for that? That's the point. It could happen to any of us, even Ann Coulter. She could have a great-grandchild any day now. Ann, this book is invaluable. Buy it!" —Bruce Vilanch, Emmy Award-winning comedy writer

"The book is fantastic! Easy read. Fun read. Many points of view, and of course thoughtful, funny, loving, and thought-provoking. It really is a must for everyone that knows someone LGBT or that is LGBT or might be LGBT or never met anyone LGBT—I believe that covers everyone on the planet!" —Steven Tyler, actor

"Rainbow Relatives is a must 'go-to' guide for folks wanting real stories, interviews, and advice from parents, therapists, and celebrities about their own experiences with their journeys as an LGBTQ person in today's modern world. This book will help you navigate the conversations you may want to have with your families in regards to this topic. Author Sudi Karatas uses humor and practical examples in different scenarios. I highly recommend this book for all." —Trisha Ventker, author Internet Dates from Hell

"For those who have, or may be, the rainbow sheep of their family, Sudi "Rick" Karatas's new book, Rainbow Relatives, is a must-read." —Baltimore OUT Loud