La Americana: A Memoir (Hardcover)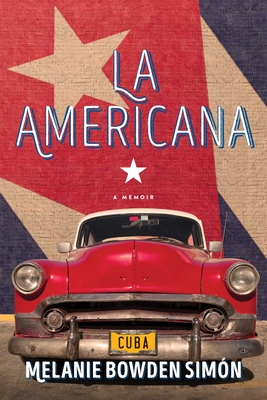 $21.99
Temporarily Unavailable
Description
---
La Americana is the story of Melanie Bowden Simón, who, at the age of twenty-five, left her job at Tina Brown's Talk magazine following the death of her mother and decided to take a vacation in Havana, Cuba, with a friend. Little did she know that she would meet and fall in love with a Cuban man named Luis and dive headlong into a culture defined by beauty, humor, and grace within the unnerving realities of communism.

In this memoir, Simón details her fascination with Cuban culture as she grapples with the death of her mother. She also covers the struggle to get in and out of Cuba at a time when the country is labeled a pariah state. Yet over and over again, Simón manages to overcome international barriers and overcome language and cultural obstacles—all in the name of her love for Luis.

This book makes a great read for those with an interest in Cuban history, a zest for romance, or a passion for travel.

Skyhorse Publishing, along with our Arcade, Good Books, Sports Publishing, and Yucca imprints, is proud to publish a broad range of biographies, autobiographies, and memoirs. Our list includes biographies on well-known historical figures like Benjamin Franklin, Nelson Mandela, and Alexander Graham Bell, as well as villains from history, such as Heinrich Himmler, John Wayne Gacy, and O. J. Simpson. We have also published survivor stories of World War II, memoirs about overcoming adversity, first-hand tales of adventure, and much more. While not every title we publish becomes a New York Times bestseller or a national bestseller, we are committed to books on subjects that are sometimes overlooked and to authors whose work might not otherwise find a home.
About the Author
---
Melanie Bowden Simó n has written for various business and lifestyle publications over the past fifteen years. She has a degree in journalism and served as the travel editor and writer for South magazine for two years. Simó n coauthored a book, Savannah: A Gracious City of Enterprise, for the city of Savannah in 2007. In addition, she blogged for Salted & Styled, named 2013' s best food blog in the country by culinary legends Alice Waters and Marcus Samuelsson. She resides in Savannah, Georgia.
Praise For…
---
"Bowden Simón's travels and struggles are beautifully rendered in this evocative valentine to her mother, Cuba, and the power of love in the unlikeliest of places to heal a broken heart and spirit."
—Publishers Weekly

"WOW! Luis and Melanie will steal your heart!"
—Fresh Fiction

"Melanie Bowden Simón recounts her real-life love story in La Americana. This is no cut-and-dry romance, though; her memoir tells how she fell in love while on vacation abroad and explores the obstacles she and her now-husband overcame to make their cross-cultural relationship work. Castro's Cuba serves as a particularly interesting backdrop."
—Bustle

"This is a Prince Charming story; the action peaks with the author's wedding at the beautiful Hotel Nacional in Havana . . . A marriage plot come to life that also incorporates elements of armchair travel."
—Library Journal

"A romance, an adventure tale, and a raw depiction of loss that transcends place and time. The fact that this story is set in Cuba, though, makes for a fascinating and important read at this pivotal moment in US-Cuba relations." —Sarah McCammon, political reporter, NPR

"Melanie Bowden Simón captures Cuba's enduring allure in her debut memoir. Through a fog of grief and the dark shadows of Cuba's communist society, she uncovers the indomitable soul of the island and finds a balm for her own—one that brings love, healing and release."
—Denise DiFulco, former senior editor, Latina magazine

"A raw, rich tale of healing, self-discovery, and passion."
—Tracy Slater, author of The Good Shufu: Finding Love, Self, and Home on the Far Side of the World

"How did Melanie Bowden Simón do it? She's given the free world a book about everything: love, grief, food, travel, history, communist regimes. This book is so good it should be illegal. Mark my words: The coming revolution in great writing about Cuba begins with La Americana."
—Harrison Scott Key, author of The World's Largest Man

"Their love story was beset by myriad complications—linguistic, logistical, political—that she chronicles with wonderful wit and graceful honesty."
—Connect Savannah

"Political antagonisms fail to thwart a cross-cultural love affair."
—Kirkus Reviews

"Bowden Simón's travels and struggles are beautifully rendered in this evocative valentine to her mother, Cuba, and the power of love in the unlikeliest of places to heal a broken heart and spirit."
—Publishers Weekly

"WOW! Luis and Melanie will steal your heart!"
—Fresh Fiction

"Melanie Bowden Simón recounts her real-life love story in La Americana. This is no cut-and-dry romance, though; her memoir tells how she fell in love while on vacation abroad and explores the obstacles she and her now-husband overcame to make their cross-cultural relationship work. Castro's Cuba serves as a particularly interesting backdrop."
—Bustle

"This is a Prince Charming story; the action peaks with the author's wedding at the beautiful Hotel Nacional in Havana . . . A marriage plot come to life that also incorporates elements of armchair travel."
—Library Journal

"A romance, an adventure tale, and a raw depiction of loss that transcends place and time. The fact that this story is set in Cuba, though, makes for a fascinating and important read at this pivotal moment in US-Cuba relations." —Sarah McCammon, political reporter, NPR

"Melanie Bowden Simón captures Cuba's enduring allure in her debut memoir. Through a fog of grief and the dark shadows of Cuba's communist society, she uncovers the indomitable soul of the island and finds a balm for her own—one that brings love, healing and release."
—Denise DiFulco, former senior editor, Latina magazine

"A raw, rich tale of healing, self-discovery, and passion."
—Tracy Slater, author of The Good Shufu: Finding Love, Self, and Home on the Far Side of the World

"How did Melanie Bowden Simón do it? She's given the free world a book about everything: love, grief, food, travel, history, communist regimes. This book is so good it should be illegal. Mark my words: The coming revolution in great writing about Cuba begins with La Americana."
—Harrison Scott Key, author of The World's Largest Man

"Their love story was beset by myriad complications—linguistic, logistical, political—that she chronicles with wonderful wit and graceful honesty."
—Connect Savannah

"Political antagonisms fail to thwart a cross-cultural love affair."
—Kirkus Reviews