Twenty-Two Cents an Hour: Disability Rights and the Fight to End Subminimum Wages (Paperback)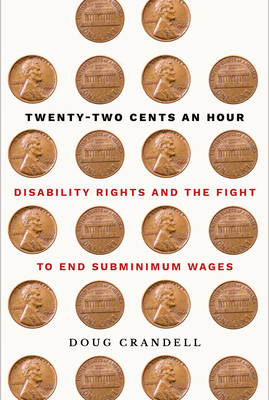 Description
---
In Twenty-Two Cents an Hour, Doug Crandell uncovers the harsh reality of people with disabilities in the United States who are forced to work in unethical conditions for subminimum wages with little or no opportunity to advocate for themselves, while wealthy CEOs grow even wealthier as a direct result.
As recently as 2016, the United States Congress enacted bipartisan legislation which continued to allow workers with disabilities to legally be paid far lower than the federal minimum wage. Drawing on ongoing federal Department of Justice lawsuits, the horrifying story of Henry's Turkey Farm in Iowa, and more, Crandell shows the history of the policies that have led to these unjust outcomes, examines who benefits from this legislation, and asks important questions about the rise of a disability industrial complex. Exposing this complex--which is rooted in profit, lobbying, and playing on the emotions of workers' parents and families, as well as the public--Crandell challenges readers to reexamine how we treat some of our most vulnerable fellow citizens. Twenty-Two Cents an Hour forces the reader to face the reality of this exploitation, and builds the framework needed for reform.
About the Author
---
Doug Crandell is Public Service Faculty at the Institute on Human Development and Disability at the University of Georgia and the author of several books and novels, most recently They're Calling You Home.