The Completionist (Hardcover)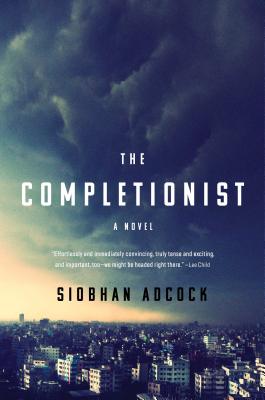 $28.60
Temporarily Unavailable
Description
---
Included in Entertainment Weekly's "10 prescient new feminist dystopias to read after The Handmaid's Tale."

"Find her. You need to keep looking, no matter what. I'm afraid of what might've happened to her. You be afraid too."

After months of disturbing behavior, Gardner Quinn has vanished. Her older sister Fredericka is desperate to find her, but Fred is also pregnant—miraculously so, in a near-future America struggling with infertility. So she entrusts the job to their brother, Carter.

Carter, young but jaded, is in need of an assignment. Just home from war, his search for his sister is a welcome distraction from mysterious physical symptoms he can't ignore...and his slightly-more-than recreational drinking.

Carter's efforts to find Gardner lead him into a dangerous underground, where he begins to grasp the risks she took on as a Nurse Completionist. But his investigation also leads back to their father, a veteran of a decades-long war just like Carter himself, who may be concealing a painful truth, one that neither Carter nor Fredericka is ready to face.

In the tradition of The Handmaid's Tale, The Completionist is speculative fiction at its very best: imaginative and propulsive, revealing our own world in bold and unexpected ways.
About the Author
---
Siobhan Adcock is the author of the novels, The Barter and The Completionist. Her short fiction has been published in Triquarterly and The Massachusetts Review, and her essays and humor writing have appeared in Salon, The Daily Beast, and Huffington Post. She lives with her husband and daughter in Brooklyn.
Praise For…
---
"Effortlessly and immediately convincing, truly tense and exciting, and important, too—we might be headed right there.
—Lee Child

"Intriguing...The Completionist will transport you to an entirely new world this Summer."
—PopSugar

"Fans of dystopian novels will love Adcock's disturbing speculation on just how bad things can get when resources are rare and personal lives are heavily policed."
—Booklist

"Thrilling...This is a perfect beach book."
—Entertainment Report

"Adcock, a natural storyteller, writes flawed and believable characters... Adcock has created a captivating, if grim, future."

—Publishers Weekly

"Thoughtful, suspenseful, and shot through with dark humor, The Completionist creates a future world near enough to our own that the familiarity stings and sings… the people who inhabit these pages are vivid, defiant reminders of the sustaining powers of purpose, honor, and family love."
— Miranda Beverly-Whittemore, New York Times bestselling author of Bittersweet and June

"Brilliant… The Completionist unfolds a compelling mystery within a disquieting but strangely familiar world, with a tense, taut atmosphere to keep you turning the pages and a family you can't help but root for as they try, and often fail, to save each other."
–Julia Fierro, bestselling author of Cutting Teeth and The Gypsy Moth Summer

Intense, chilling, visionary and compulsively readable… Comparisons to The Handmaid's Tale are inevitable, though Adcock has her own things to say about the horrific costs of a society bent on controlling women's freedoms."
– Sari Wilson, author of Girl Through Glass

"A meticulously crafted, suspenseful and timely tale of a world that is at once familiar and strange."
— Shelf Awareness