Cleopatra: I Am Fire and Air (Shakespeare's Personalities #2) (Paperback)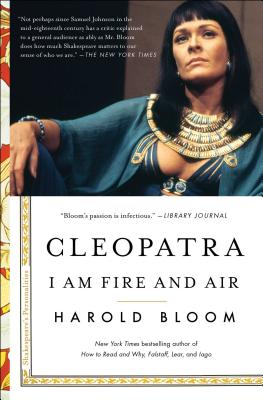 $16.00

ON HAND in at least ONE of our stores. Click through or call for up-to-the-minute availability.
Description
---
From Harold Bloom, one of the greatest Shakespeare scholars of our time, comes an intimate, wise, deeply compelling portrait of Cleopatra—one of the Bard's most riveting and memorable female characters—in "a masterfully perceptive reading of this seductive play's endless wonders" (Kirkus Reviews).

Cleopatra is one of the most famous women in history—and thanks to Shakespeare, one of the most intriguing personalities in literature. She is lover of Marc Antony, defender of Egypt, and, perhaps most enduringly, a champion of life. Cleopatra is supremely vexing, tragic, and complex. She has fascinated readers and audiences for centuries and has been played by the greatest actresses of their time, from Elizabeth Taylor to Vivien Leigh to Janet Suzman to Judi Dench.

Award-winning writer and beloved professor Harold Bloom writes about Cleopatra with wisdom, joy, exuberance, and compassion. He also explores his own personal relationship to the character: Just as we encounter one Anna Karenina or Jay Gatsby when we are in high school and college and another when we are adults, Bloom explains his shifting understanding of Cleopatra over the course of his own lifetime. The book becomes an extraordinarily moving argument for literature as a path to and a measure of our own humanity.

Bloom is mesmerizing in the classroom, wrestling with the often tragic choices Shakespeare's characters make. With Cleopatra, "Bloom brings considerable expertise and his own unique voice to this book" (Publishers Weekly), delivering exhilarating clarity and inviting us to look at this character as a flawed human who might be living in our world. The result is an invaluable resource from our greatest literary critic.
About the Author
---
Harold Bloom is Sterling Professor of Humanities at Yale University. He has written more than sixty books, including Cleopatra: I Am Fire and Air, Falstaff: Give Me Life, The Western Canon, Shakespeare: The Invention of the Human, and How to Read and Why. He is a MacArthur Prize fellow, a member of the American Academy of Arts and Letters, and the recipient of many awards, including the Academy's Gold Medal for Criticism. He lives in New Haven, Connecticut.
Praise For…
---
Praise for Cleopatra: I Am Fire and Air:

"A masterfully perceptive reading of this seductive play's endless wonders."—Kirkus Review

"Bloom draws upon his extensive reading to place the characters and the story in context alongside the histories from which the plot was adapted…those who have read the play or seen it performed will find Bloom's passion to be infectious. Recommended for Shakespeare enthusiasts and readers seeking a deeper understanding of one of his greatest creations." —Library Journal

"Bloom brings considerable expertise and his own unique voice to this book."—Publishers Weekly

Praise for Falstaff: Give me Life

"Famed literary critic and Yale professor Bloom showcases his favorite Shakespearian character in this poignant work... He has created a larger-than-life portrait of a character who is 'at his best a giant image of human freedom.'"—Publishers Weekly

"In this first of five books about Shakespearean personalities, Bloom brings erudition and boundless enthusiasm."—Kirkus Reviews, starred review

"[Bloom's] last love letter to the shaping spirit of his imagination… An explanation and reiteration of why Falstaff matters to Bloom, and why Falstaff is one of literature's vital forces… A pleasure to read."—Jeanette Winterson, New York Times Book Review

Praise for Hamlet: Poem Unlimited

"To read this book is to hear a powerful call to fall in love again with Shakespeare and his plays... I can think of no more engaging and nourishing pair of literary works: a drama of towering, perhaps unmatched, genius joining an exquisite work of literary criticism by a scholar of genuine greatness." —Baltimore Sun

"A deeply felt reverie on Hamlet, a latter-day example of the genial impressionist criticism practiced by Walter Pater, John Ruskin, and Oscar Wilde." —Washington Post Book World

"Brilliant... Will give you a night of full joy and make you forget current events." —Newsday

Praise for Shakespeare: The Invention of the Human

"Not perhaps since Samuel Johnson in the mid-eighteenth century has a critic explained to a general audience as ably as Mr. Bloom does how much Shakespeare matters to our sense of who we are." —The New York Times

"Should this be the one book you read if you're going to read a book about Shakespeare? Yes." —New York Observer

"Enraptured, incantatory... You could hardly ask for a more capacious, beneficent work." —The New Yorker

"Should this be the one book you read if you're going to read a book about Shakespeare? Yes." —New York Observer