The Book Spy: A WW2 Novel of Librarian Spies (Paperback)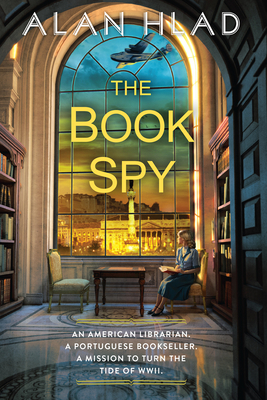 $16.95

NOT on our shelves now. Usually ships from warehouse in several days.
Description
---
Perfect for fans of Kate Quinn, Marie Benedict, and Pam Jenoff and inspired by true stories of the heroic librarian spies of WWII, the new book from the internationally bestselling author of Churchill's Secret Messenger transports readers from the New York Public Library to Portugal's city of espionage in a thrilling, riveting tale.

An American librarian. A Portuguese bookseller. A mission to change the tide of the war.

1942: With the war's outcome hanging in the balance, President Roosevelt sends an unlikely new taskforce on a unique mission. They are librarians and microfilm specialists trained in espionage, working with a special branch of the Office of Strategic Services and deployed to neutral cities throughout Europe. By acquiring and scouring Axis newspapers, books, technical manuals, and periodicals, the librarians can gather information about troop location, weaponry, and military plans.

Maria Alves, a microfilm expert working at the New York Public Library, is dispatched to Lisbon, where she meticulously photographs publications and sends the film to London to be analyzed. Working in tandem with Tiago Soares, a Portuguese bookstore owner on a precarious mission of his own—providing Jewish refugees with forged passports and visas—Maria acquires vital information, including a directory of arms factories in Germany.

But as she and Tiago grow closer, any future together is jeopardized when Maria's superiors ask her to pose as a double agent, feeding misinformation to Lars Steiger, a wealthy Swiss banker and Nazi sympathizer who launders Hitler's gold. Gaining Lars' trust will bring Maria into the very heart of the Fuhrer's inner circle. And it will provide her with a chance to help steer the course of war, if she is willing to take risks as great as the possible rewards . . .

"A must-read, especially for fans of Kate Quinn's The Rose Code."— firstCLUE, Starred Review
About the Author
---
Alan Hlad is the internationally bestselling author of historical fiction novels inspired by real people and events of WWI and WWII, including The Book Spy, Churchill's Secret Messenger, A Light Beyond the Trenches, and the USA Today and IndieBound bestseller The Long Flight Home. A member of the Historical Novel Society, Literary Cleveland, Novelitics, and the Akron Writers' Group, he is a frequent speaker at conferences, literary events, and book club gatherings. He currently divides his time between Ohio and Portugal and can be found online at AlanHlad.com.
Praise For…
---
Praise for The Book Spy

"The walled-off feeling of loneliness in a crowd pervades the pages of Hlad's piercing historical thriller. Based on a fascinating and little-known true story of World War II… Hlad's immersive portrayal of wartime Lisbon and its inhabitants, of the loneliness caused by the terror that anybody at any time could be an informant, plus his captivating thriller/romance tale make this a must-read, especially for fans of Kate Quinn's The Rose Code." —firstCLUE, Starred Review for The Book Spy

"A wonderful mix of deep historical research and writing craft...This important tale exposes a side of espionage that is often overlooked—the recruitment of ordinary citizens—and it reminds us to never underestimate librarians, guardians of democracy in more ways than one." – Historical Novels Review on The Book Spy

Praise for Alan Hlad's Novels:

"I've always been fascinated by homing pigeons, and Alan Hlad makes these amazing birds and their trainers shine in The Long Flight Home–a sweeping tale full of romance and espionage, poignant sacrifice and missed chances, uncommon courage, and the ongoing costs of war. A compelling debut told with conviction and great heart." —Paula McLain, author of The Paris Wife and Love and Ruin on The Long Flight Home

"Tense, heartwarming and life affirming, The Long Flight Home gives a fresh slant on heroism in WWII." —Rhys Bowen, New York Times bestselling author on The Long Flight Home

"Hlad's debut snares readers with its fresh angle on the blitz of WWII, focusing on the homing pigeons used by the British, and the people who trained and cared for them... Descriptions of the horrors of war and the excitement of battle are engaging, and the unusual element of the carrier pigeons lends an intriguing twist. This story will speak not only to romance readers and WWII buffs but also to animal advocates and anyone who enjoys discovering quirky details that are hidden in history." —Publishers Weekly on The Long Flight Home

"Drawing on historical material, Hlad concocts an appealing and exciting story… intertwining the romance and action stories, treating both realistically and largely without melodrama." —Booklist on Churchill's Secret Messenger

"[A] rousing historical novel about daring Resistance workers in World War II… Hlad takes the story to torture cells and Ravensbrück concentration camp, incorporating historical elements like the daring Project Jericho raid and the 1942 detention of thousands of Jews, including Lazare's parents, in a Paris cycling arena before they were sent to their ultimate fate. The sacrifice and valor of these characters is stirring." —The Akron Beacon Journal on Churchill's Secret Messenger

"Hlad dives deep into the history and pulls together several remarkable stories and fashions them into Rose and her role in Operation Jericho. This makes for an exciting, tense story with life-or-death drama unfolding on each page. Hope and love resonating between the characters and Hlad's evocative writing make this a don't-miss book." —The Historical Novels Review on Churchill's Secret Messenger

"Alan Hlad tells a dramatic, fictionalized story about the real use of pigeons during World War II...Compelling...The engaging plot and fascinating details of the National Pigeon Service make it a rewarding read. Many civilian pigeon-keepers volunteered to try to turn the tide of the war, not knowing if it would work or be worth the loss of their birds in the dangerous process. The Long Flight Home captures the contributions of the average citizens who, in a time of peril, rose to meet the challenge in heroic ways." —BookPage on The Long Flight Home

"This well-researched historical novel presents a wealth of period detail and develops a romantic story inspired by the actual discovers–reported in newspapers more than a half century after the war–of the skeleton of an English homing pigeon carrying a sti"l-legible coded message. The destructiveness of war, particularly the random carnage caused by the bombing of civilian areas, is vividly described, as well as the bravery of many citizens, including the homing pigeons of the National Pigeon Service." —VOYA Magazine on The Long Flight Home

"Hlad's debut delves into an obscure piece of World War II history: the covert mission of the National Pigeon Service, which deployed an army of homing pigeons to send messages to Britain from Nazi-occupied France...Ollie's attempts to escape from France are gripping, and Hlad adeptly drives home the devastating civilian cost of the war." —Booklist on The Long Flight Home

"In Alan Hlad's fascinating story based on true events, he explores the special bond between an orphaned girl who raises the homing pigeons and an American soldier desperate to help the Royal Air Force." —AFAR Magazine, The Best Summer Reads on The Long Flight Home

"The state of Maine is left behind in Alan Hlad's tale of heroism and romance, but its spirit–stoic, modest, independent—is well represented in Ollie...With its accounts of Luftwaffe raids on Britain and the unusual operation called Source Columba, which employed 16,000 pigeons in intelligence gathering, The Long Flight Home is a fresh avenue into a curious piece of World War II history." —Down East Magazine on The Long Flight Home

"Based on true events, The Long Flight Home has everything I love in a novel–the sense of discovery, the epic drama of a life-or-death situation, and the soaring sense of hope gained from the depths of despair. It's a gorgeous, impressive first novel by a hugely talented autho'." —Susan Wiggs, # 1 New York Times bestselling author on The Long Flight Home

"A story of loss and heartbreak, sacrifice and compassion, The Long Flight Home is ultimately a story of hope." —The New York Journal of Books on The Long Flight Home

"A rousing historical novel." —The Akron Beacon Journal, Best Books of the Year for Churchill's Secret Messenger