We Who Walk the Seven Ways: A Memoir (Paperback)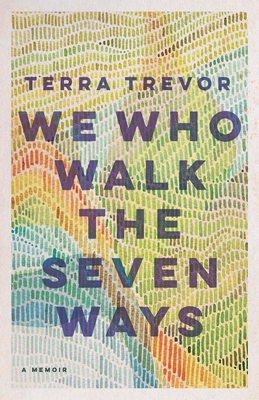 Description
---
We Who Walk the Seven Ways is Terra Trevor's memoir about seeking healing and finding belonging. After she endured a difficult loss, a circle of Native women elders embraced and guided Trevor (Cherokee, Lenape, Seneca, and German) through the seven cycles of life in Indigenous ways. Over three decades, these women lifted her from grief, instructed her in living, and showed her how to age from youth into beauty.

With tender honesty, Trevor explores how every end is always a beginning. Her reflections on the deep power of women's friendship, losing a child, reconciling complicated roots, and finding richness in every stage of life show that being an American Indian with a complex lineage is not about being part something, but about being part of something.
About the Author
---
Terra Trevor is a professional writer with forty years of experience. She is a contributor to fifteen books and is the author of numerous essays and articles. Her first memoir is Pushing Up the Sky: A Mother's Story.
Praise For…
---
"Covering topics as diverse as race, religion, and the craft of writing, We Who Walk the Seven Ways is a moving memoir about friendship and identity."—Foreword Reviews

"Raised to conceal her Native ancestry, Terra Trevor learns from elders to nurture her mixed blood identity and shape her activism in transracial adoption, Indian health and education, and community building. This is an inspiring, heartfelt memoir of one Native woman's spirit journey from childhood to her own elderhood."—Robert Bensen, editor of Children of the Dragonfly: Native American Voices on Child Custody and Education

"This poignant memoir touches on the trials and tribulations of Terra Trevor, a mixed blood American Indian straddling two races. It's a book you won't be able to put down, written with simplicity, grace, and urgency, transcending any expectations. In spite of many obstacles, Trevor is a woman of unimaginable strength and courage. After not being heard as a child, she thankfully found her voice as a writer, and how lucky we are!"—Diana Raab, author of Regina's Closet and Writing for Bliss

"The book's insights are fascinating, and there is a feeling of authenticity throughout. Terra Trevor confronts big (and often tragic) life events with humility and real wisdom. She not only describes how she makes her way through those events but does so in a very pragmatic way. Additionally, the work incorporates a powerful look at the intersections between gender, race, and culture. This is an important story, beautifully told and extremely relevant for these difficult times."—Margaret Randall, author of I Never Left Home: Poet, Feminist, Revolutionary

"Terra Trevor's book is a gentle invitation to journey with her across decades, an invitation to notice with her as she seeks healing and finds belonging. There were phrases and sentences I underlined, places where I wept, passages that will remain with me as they drew me to insights I'd previously struggled to name. I closed the final pages and knew that in reading this book, I had been the recipient of a generous and much-needed gift. While I can certainly finish a book in a day, I chose to move slowly through this one, letting each idea, each paragraph, each reflection gently spill over me, allowing the pages to alter me in some way."—Patrice Gopo, author of Autumn Song: Essays on Absence