Deep Waters: The Textual Continuum in American Indian Literature (Paperback)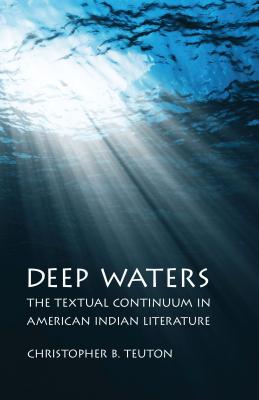 $33.75

NOT on our shelves now. Usually ships from warehouse in several days.
Description
---
Weaving connections between indigenous modes of oral storytelling, visual depiction, and contemporary American Indian literature, Deep Waters demonstrates the continuing relationship between traditional and contemporary Native American systems of creative representation and signification. Christopher B. Teuton begins with a study of Mesoamerican writings, Diné sand paintings, and Haudenosaunee wampum belts. He proposes a theory of how and why indigenous oral and graphic means of recording thought are interdependent, their functions and purposes determined by social, political, and cultural contexts.
 
The center of this book examines four key works of contemporary American Indian literature by N. Scott Momaday, Gerald Vizenor, Ray A. Young Bear, and Robert J. Conley. Through a textually grounded exploration of what Teuton calls the oral impulse, the graphic impulse, and the critical impulse, we see how and why various types of contemporary Native literary production are interrelated and draw from long-standing indigenous methods of creative representation. Teuton breaks down the disabling binary of orality and literacy, offering readers a cogent, historically informed theory of indigenous textuality that allows for deeper readings of Native American cultural and literary expression.
 
About the Author
---
Christopher B. Teuton (Cherokee Nation) is a professor of American Indian studies at the University of Washington. He is the author of the American Book Award–winner Cherokee Stories of the Turtle Island Liars and the coeditor of Reasoning Together: The Native Critics Collective.
 
Praise For…
---
"Christopher Teuton's study of four American Indian writers . . . offers a useful model for theorizing the interdependence of oral and written traditions within Indigenous communities."—Lindsey Claire Smith, Great Plains Quarterly

"Articulating a much-needed change in the way scholars approach Native American literatures, Teuton's thought-provoking study redefines one's sense of the relationship between tradition and modernity and poses significant questions for further research and work in the field."—C.L. Sheffield, Choice

"Teuton moves elegantly between his tribal background and a multitribal approach that makes a convincing claim for rethinking the role of media in arguments about indigenous literary studies—indeed, in literary studies across the board."—Wicazo Sa Review

"A careful examination of modes of Native American storytelling focusing on links between the oral, graphic, and critical impulses."—Richard Mace, Pennsylvania Literary Journal