Celeste Holm Syndrome: On Character Actors from Hollywood's Golden Age (Paperback)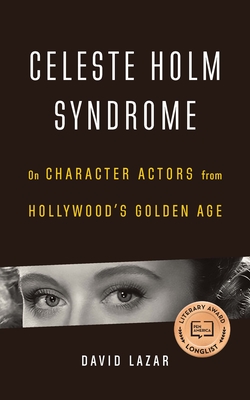 Description
---
Longlisted for the PEN/Diamonstein-Spielvogel Award for the Art of the Essay

In this essay collection David Lazar looks to our intimate relationships with characters, both well-known and lesser known, from Hollywood's Golden Age. Veering through considerations of melancholy and wit, sexuality and gender, and the surrealism of comedies of the self in an uncanny world, mixed with his own autobiographical reflections of cinephilia, Lazar creates an alluring hybrid of essay forms as he moves through the movies in his mind. Character actors from the classical era of the 1930s through the 1950s including Thelma Ritter, Oscar Levant, Martin Balsam, Nina Foch, Elizabeth Wilson, Eric Blore, Edward Everett Horton, and the eponymous Celeste Holm all make appearances in these considerations of how essential character actors were, and remain, to cinema.
About the Author
---
David Lazar is a professor at Columbia College Chicago. He is the author of several books, including I'll Be Your Mirror: Essays and Aphorisms (Nebraska, 2017), Who's Afraid of Helen of Troy? An Essay on Love, and Occasional Desire: Essays (Nebraska, 2013). He is the founding editor of the literary magazine Hotel Amerika.
 
Praise For…
---
"Lazar's writing is both erudite and ardent. He is both professor and cinéaste."—Elizabeth Bales Frank, Brevity

 

"Fans of Hollywood's Golden Age will delight in this affecting look at what makes actors truly memorable, even if they're not in the spotlight."—Publishers Weekly
 

"Lazar's writing is both erudite and ardent. He is both professor and cinéaste."—Elizabeth Bales Frank, Brevity

"Lazar's Celeste Holm Syndrome reminds us that even the quietest presence or briefest screen time from these supporting players with a seemingly tireless work ethic and deep well of modest humility can leave a lasting impression."—Christopher John Stephens, Pop Matters

"This gorgeously written book makes many brilliant observations about the tiny nuances of 'character actors' and in so doing makes an unassailable case that because we are all bit players in the cosmic firmament, 'interesting and endearing people' are immeasurably more compelling than 'heroes' (whoever they might be)."—David Shields, author of The Trouble with Men: Reflections on Sex, Love, Marriage, Porn, and Power

"A great book about character actors would be enough, but Lazar's imaginative and ingratiatingly erudite series of meditations is much more. The author spins sprightly essays from each subject, allowing biography and personal speculation to reinforce and enrich each other. The sublime tribute to Oscar Levant and melancholia is, as they say, worth the price of admission."—Molly Haskell, author of From Reverence to Rape: The Treatment of Women in the Movies