Cloud Finops: Collaborative, Real-Time Cloud Financial Management (Paperback)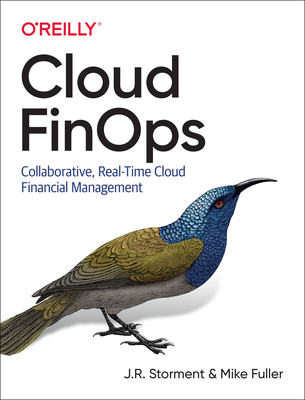 $59.99

NOT on our shelves now. Usually ships from warehouse in several days.
Description
---
Applying traditional spend management processes to the cloud will lead to companies losing control of costs and interrupting innovation. Whether you're new to managing cloud spend or a seasoned pro, this book will clarify the often misunderstood workings of cloud billing. You'll learn expert strategies for creating a culture of cloud cost management.
Drawing on real-world examples of successes and failures of large-scale cloud spenders, this book outlines a road map for building a culture of Cloud FinOps in your organization. Beginning with fundamental cloud billing concepts, tech execs, finance teams, DevOps leaders, and FinOps practitioners will learn how to build an efficient and effective FinOps machine.
Learn how the cloud works when it comes to financial management
Set up a FinOps team and build a framework for making spend efficiency a priority
Examine the anatomy of a cloud bill and learn how to manage it
Get operational recipes for maximizing cloud efficiency
Motivate engineering teams to take cost-saving actions
Explore the FinOps lifecycle: inform, optimize, and operate
Learn the DNA of a highly functional Cloud FinOps culture
About the Author
---
J.R. has spent the last 20 years solving problems with technology and the last 8 working with some of the largest AWS cloud consumers in the world--like GE, Atlassian, BP, Adobe, and Uber-- helping them design strategies to optimize and analyze their cloud spend. J.R. co-founded Cloudability, the leading cloud FinOps platform for cost management and optimization. He recently co-authored a book on the subject of AWS cost management called Cloud Control. In 2017, J.R. moved to London to expand Cloudability's EMEA operations and support the large customers in the region. J.R. speaks internationally on the topic of FinOps.Mike Fuller has worked at Atlassian's Sydney Australia head office for the past 7 years, currently as a Principal Systems Engineer in the Cloud Engineering Team (Cloud Center of Excellence). Mike's role at Atlassian has him working with most of the AWS Services and assisting teams inside Atlassian to operate with security, high availability and cost efficiency. Atlassian's Cloud Engineering team is responsible for the design, governance, and implementation of best practises at Atlassian. Mike holds a bachelor degree in Computer Science and 9 AWS certifications and has presented at multiple AWS Re: Invent and AWS Summit events on topics involving AWS Security and Cost Optimisation.