Moby Dick (Paperback)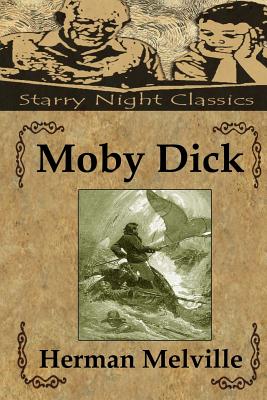 $27.60
NOT on our shelves now. Usually ships from warehouse in several days.
Description
---
In this classic seafaring adventure tale by Herman Melville, we are introduced to the wandering sailor Ishmael, as he meets and befriends a cannibal named Queequeg. Then, the two begin a thrilling voyage on the Pequod, a whaling ship commanded by the brooding madman, Captain Ahab, whose sole obsession is the destruction of the ferocious white whale, Moby Dick, who previously bit off his leg and sank his ship. Join us for an epic exploration into faith, character, and revenge as we witness the fight for survival and control between man and beast.
About the Author
---
Herman Melville was born Herman Melvill on August 1, 1819, in New York City, the third of eight children. When his father died around 1833, his mother added the "e" to the last name. Herman's paternal grandfather was part of the Boston Tea Party and his maternal grandfather was a hero of the Siege of Fort Schuyler. When he was seven, Herman contracted scarlet fever, damaging his eyesight. In 1830, the family moved to Albany to go into the fur business, but he ended up declaring bankruptcy and dying shortly thereafter. The family suffered financially, but Herman was able to attend the Albany Academy to study the classics. He sought work as a surveyor on the Erie Canal, but eventually joined the crew of a ship bound for Liverpool, England. From 1837 to 1840, Melville became a teacher, but then decided to go to sea once again, on an eighteen month long whaling trip, giving him the inspiration for "Moby Dick." He deserted the ship and lived among a group of cannibals, having an affair with a native girl. Then he left for Tahiti, took part in a mutiny, was jailed, spent months as a beachcomber and signed up for another six month cruise that landed him in Honolulu. In 1847, Melville married Elizabeth Shaw, settling in Massachusetts in 1850 where he became friends with Nathaniel Hawthorne. They had four children. After his popularity began to wane, he began to behave in a manner that made people believe that he was crazy, his wife's family urging her to leave him. In 1863, they relocated to New York City and three years later, he took a job as customs inspector, which he kept for 19 years. His writing career was over. In 1867, Melville's oldest son accidentally shot himself while in San Francisco. Melville himself died on September 28, 1891, of a heart attack at the age of 72, while in New York City. He is buried in Woodlawn Cemetery in The Bronx. During the early 20th Century, there was a sudden resurgence in the popularity of Herman Melville's works, which had fallen from grace during his lifetime. This revival launched him and his writing back into classic status.