Lock & Mori (Hardcover)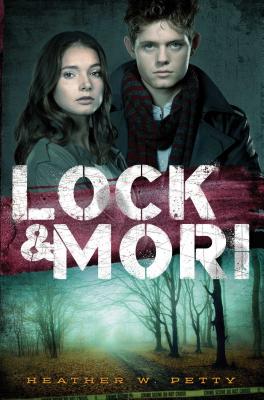 $19.79
Temporarily Unavailable
Description
---
In modern-day London, two brilliant high school students—one Sherlock Holmes and a Miss James "Mori" Moriarty—meet. A murder will bring them together. The truth very well might drive them apart.

Before they were mortal enemies, they were much more…

FACT: Someone has been murdered in London's Regent's Park. The police have no leads.

FACT: Miss James "Mori" Moriarty and Sherlock "Lock" Holmes should be hitting the books on a school night. Instead, they are out crashing a crime scene.

FACT: Lock has challenged Mori to solve the case before he does. Challenge accepted.

FACT: Despite agreeing to Lock's one rule—they must share every clue with each other—Mori is keeping secrets.

OBSERVATION: Sometimes you can't trust the people closest to you with matters of the heart. And after this case, Mori may never trust Lock again.
About the Author
---
Heather W. Petty has been obsessed with mysteries since she was twelve, which is when she decided that stories about murders in London drawing rooms and English seaside villages were far superior to all other stories. She is the author of the Lock & Mori series. She lives in Reno, Nevada, with her husband, daughter, and four hopelessly devious cats. You can visit her online at HeatherWPetty.com.
Praise For…
---
"Mystery lovers will be pleased to have this whodunit, which is neither Victoriana nor steampunk."
— Kirkus Reviews

"A unique spin on a familiar tale makes Lock & Mori wise, witty and engaging. Author Heather W. Petty is a force to be reckoned with."
— Ellen Hopkins, author of CRANK, TRICKS, AND TRAFFICK

"Darkly atmospheric, and the stakes are high."
— Booklist

"Mori is a well-developed, multidimensional protagonist and a lively narrator. Lock is just as intriguing...The ending will leave readers wanting more from these two mystery mavens."
— School Library Journal

"[A] quick-moving mystery distinguished by clear writing, memorable imagery, and some keen insights into human fragility."
— Publishers Weekly

"True to canon, this sleuthing tale is rife with intrigues, puzzles, and vivid danger. Read at your own peril – nothing is more electrifying than the hunt for truth."
— The Christian Science Monitor

"[T]een readers will enjoy the dialogue, the dark mystery, and of course, the romance."
— School Library Connection