Quicksand (Hardcover)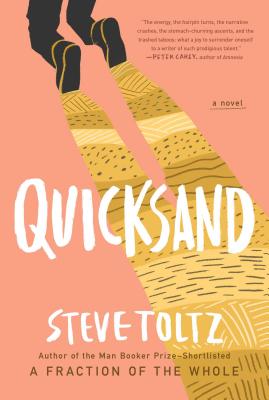 Not available to order
Hard to Find. Not available to order.
October 2015 Indie Next List
---
"A dark comedy that ups the ante on both the 'dark' and the 'comedy,' pulling laughs from some of the worst situations that can be imagined, Quicksand is also an incredible distillation of the absurdity that makes up life in the 21st century. All too frequently, authors who take on so vast a topic struggle to say anything of real meaning, but Toltz drops simultaneously profound and hilarious observations as if they were one-liners and hardly pauses to let them sink in before moving on to the next. With characters both vibrant and tragic, and the story both an encapsulation and a dazzling parody of our modern lives, Quicksand is a book not to be missed."
— Christopher Phipps (M), DIESEL, A Bookstore, Oakland, CA
Description
---
A daring, brilliant new novel from Man Booker Prize finalist Steve Toltz, for fans of Dave Eggers, Martin Amis, and David Foster Wallace: a fearlessly funny, outrageously inventive dark comedy about two lifelong friends.

Liam is a struggling writer and a failing cop. Aldo, his best friend and muse, is a haplessly criminal entrepreneur with an uncanny knack for disaster. As Aldo's luck worsens, Liam is inspired to base his next book on his best friend's exponential misfortunes and hopeless quest to win back his one great love: his ex-wife, Stella. What begins as an attempt to make sense of Aldo's mishaps spirals into a profound story of faith and friendship.

With the same originality and buoyancy that catapulted his first novel, A Fraction of the Whole, onto prize lists around the world—including shortlists for the Man Booker Prize and the Guardian First Book Award—Steve Toltz has created a rousing, hysterically funny but unapologetically dark satire about fate, faith, friendship, and the artist's obligation to his muse. Sharp, witty, kinetic, and utterly engrossing, Quicksand is a subversive portrait of twenty-first-century society in all its hypocrisy and absurdity.
About the Author
---
Steve Toltz's first novel, A Fraction of the Whole, was released in 2008 to widespread critical acclaim, and was shortlisted for the Man Booker Prize and the Guardian First Book Award. Prior to his literary career, he lived in Montreal, Vancouver, New York, Barcelona, and Paris, variously working as a cameraman, telemarketer, security guard, private investigator, English teacher, and screenwriter. Born in Sydney, he currently lives in New York.
Praise For…
---
PRAISE FOR QUICKSAND:

"[A] narrative so brilliant, so fizzing with lucidity and comedy and horror and hard-nosed empathy…The real parent of 2008's A Fraction of the Whole and this new work is Saul Bellow…There is a superfluity of smarts on display. Characters back talk each other like Chinese table tennis champions; aperçus fly like sparks from the angle-grinder of the authorial imagination. Still, there is a feeling edge to all this dazzle, a sense that the torrential flow of wit is a cover for fear of the void. The hollowest babble is better than the endless silence that will follow when death presses mute….

[Like] Philip Roth at his angriest and funniest…Quicksand is a similarly high-octane read; it recalls and updates the tradition of Jewish-American fiction in the same spirit as Gary Shteyngart or Jonathan Safran Foer….
Aldo Benjamin's fate is as complicated as his character…. What is heroic about him is that he never becomes a hero…He is one of those rare characters who will live on in our collective literary imagination."

"It is very rare for me to laugh on almost every page of a book; it is even rarer for that to be accompanied by exquisite melancholy. Toltz is writing like very few other authors; he seems like an Antipodean Thomas Bernhard in his unsparing, agonizing comedies. I hope it is not seven years before his next novel."

"Exuberant."

"Highly original,entertaining and almost impossible to summarize, this is a high-octane,adrenaline-fuelled, frenetic tour de force of sustained brilliance. There is wit, laugh-out-loud humour and linguistic fireworks and dexterity on almost every page..."

"Brilliantly dark...The entire novel is buzzing with the power of human connection – the jokes, accommodations and shared mythologies of love and friendship. Even in a book overflowing with solipsists and monomaniacs, would-be artists and theories about art, it remains a creative force to be reckoned with."

"Darkly comic and increasingly cosmic. . .It takes a very good writer to pull off this style, but Toltz is supremely capable. . .A scream of triumph."

"Aldo Benjamin, the novel's hero, is a modern-day Job who endures terrible things: beatings, catastrophic injuries, prison rape, multiple bankruptcies. Trust me, it's very funny… every page has zingers that you'll want to read to other people. Steve Toltz is touched by comic genius. . . .For risque humour and razor-sharp with, look no further…Think John Kennedy Toole's A Confederacy of Dunces."
— Robbie Millen, The Sunday Times Summer Reading Choices

"This is a book shot through with mordant humour and sizzling inventiveness...and in Aldo, Toltz has created a magnificent character ... There is more than a hint in his make-up of Philip Roth's cantankerous Mickey Sabbath and Woody Allen's neurotic Alvy Singer, although his pungent humour is all his own."

"Steve Toltz's Quicksand proves to be the cherry on the cake – a beguiling novel that confounds and astonishes in equal measure, often on the same page…Part Chuck Palahniuk, part David Foster Wallace,…Quicksand has a thousand dazzling throwaway moments of brilliance.… A tour de force."

"The funniest novel of the past year…Genuinely moving."

"Toltz channels a poet's delight in crafting the perfect phrase on every highly quotable page. In his epic lack of employment and sincere lust for life, Aldo Benjamin is quite a memorable character. By turns hilarious and hopeless, Toltz's novel is a tender portrait of a charming and talented loser."

"A delightful literary novel. . . . It's a challenge to do Toltz's writing justice by saying merely that it's postmodern in its mix of styles, very funny,literate, and character-driven. It's extraordinarily imaginative. The tale is ostensibly written by a failed author-turned-police-officer writing a novel about his unlucky friend whose every business venture fails horribly. This is a novel that combines the desirable quality of page-turnability with existential anguish, surreality, and absurdity. Toltz's strength is the way he has his characters deal with the hard reality of having rotten luck in a meaningless world. Make up your own god, he seems to say near the end—you can't do any worse than what others have concocted."

"Comic gold. . . . Few novels as funny as Quicksand manage anything remotely approaching its gravity."
— Stefan Beck

"If this kind of tightly-constructed comic masterpiece is Steve Toltz's idea of the dreaded sophomore slump, his career is going to be something of a marvel."
— Steve Donoghue

"The pleasure of Quicksand is in Toltz's energetic prose, rich with one-liners,Beckettesque dialogue driven by gallows humor and misunderstanding."

ADVANCE PRAISE FOR QUICKSAND

"Steve Toltz writes with a singular, propulsive energy, with sentences and characters that rise off the page with a force that leaves you almost breathless. There is more heart, and joy and compassion and hard-earned wisdom in Quicksand than seems possible for a single novel; it is life, literature at its fullest."
— Dinaw Mengestu, award-winning author of The Beautiful Things That Heaven Bears and All Our Names

"What would happen if some genius were able to unite the high-wattage storytelling exuberance of Kurt Vonnegut, the combustive glee of Walt Whitman, and the reality-smashing despair of Franz Kafka? Impossibly, Steve Toltz has done just that, turning out a new masterpiece that is at once an old-fashioned page-turner, a tragicomic lament for the digital age, and an aching howl at the intractable existential dilemmas of our poor species. Quicksand is the sort of book that refuses to sleep between its covers on your nightstand; it is its own blazing, intricate, hysterically surreal universe, big and brilliant enough to swallow your own."
— Stefan Merrill Block, bestselling author of The Story of Forgetting and The Storm at the Door

"There are more lines of genius on one page of Quicksand than in the entirety of many very respectable novels."
— Elif Batuman, author of The Possessed

"Steve Toltz possesses an imagination that knows no limits. His work is mordant, prophetic and very funny. He is a true original."
— Patrick McGrath

"Steve Toltz is a verbal magician and lunatic storyteller. Every page of this novel bursts with ideas and humor and pathos and incisive riffs that perfectly express the grand absurdities of the irrational universe, along with the smaller ones of a very particular friendship. Quicksand is the work of a writer in full command of his many outsized gifts, not least of which is his humanity."
— Teddy Wayne, Whiting Award-winning author of The Love Song of Jonny Valentine

"Steve Toltz's Quicksand--narrated by Aldo and Liam, two epic Aussie screw-ups and lifelong best friends—is one of the smartest, funniest, angriest novels I have ever read. But it's also a surprisingly touching meditation on friendship and family, on art and God, on law-breaking and law enforcement…A brilliant piece of fiction, from a novelist who so clearly sees the outsized pleasures and terrors of our troubled time. "
— Brock Clarke, author of An Arsonist's Guide to Writer's Homes in New England and The Happiest People in the World

"Quicksand crackles with such intensity it made me turn the pages with a harder snap, lean closer, want to gnaw the words. This is a novel of sneak-attack seriousness, so funny it fools you into letting down your guard—then knocks you upside the head with intense intelligence, probing thought, raw pain. For all the wit and wisdom in this book, all the pleasures contained in its raucous, furious, fearless pursuit of truths, the greatest thrill comes when it strikes you that you've never read anything quite like it before, that you just might have stumbled—startlingly, unsettlingly—on something close to genius in the writing of Steve Toltz."
— Josh Weil, author of The Great Glass Sea

"The energy, the hairpin turns, the narrative crashes, the stomach churning ascents and trashed taboos: what a joy to surrender oneself to a writer of such prodigious talent."
— Peter Carey, Booker Prize-winning author of Amnesia