Salinger (Hardcover)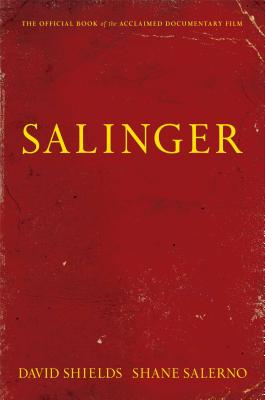 $37.50
Temporarily Unavailable
Description
---
NEW YORK TIMES BESTSELLER


THE BOY WHO BECAME A REBEL. THE REBEL WHO BECAME A SOLDIER. THE SOLDIER WHO BECAME AN ICON. THE ICON WHO DISAPPEARED.

Raised in Park Avenue privilege, J. D. Salinger sought out combat, surviving five bloody battles of World War II, and out of that crucible he created a novel, The Catcher in the Rye, which journeyed deep into his own despair and redefined postwar America.

For more than fifty years, Salinger has been one of the most elusive figures in American history. All of the attempts to uncover the truth about why he disappeared have been undermined by a lack of access and the recycling of inaccurate information. In the course of a nine-year investigation, and especially in the three years since Salinger's death, David Shields and Shane Salerno have interviewed more than 200 people on five continents (many of whom had previously refused to go on the record) to solve the mystery of what happened to Salinger.

Constructed like a thriller, this oral biography takes you into Salinger's private world for the first time, through the voices of those closest to him: his World War II brothers-in-arms, his family, his friends, his lovers, his classmates, his editors, his New Yorker colleagues, his spiritual advisors, and people with whom he had relationships that were secret even to his own family. Their intimate recollections are supported by more than 175 photos (many never seen before), diaries, legal records, and private documents that are woven throughout; in addition, appearing here for the first time, are Salinger's "lost letters"—ranging from the 1940s to 2008, revealing his intimate views on love, literature, fame, religion, war, and death, and providing a raw and revelatory self-portrait.

Salinger published his last story in 1965 but kept writing continuously until his death, locked for years inside a bunker in the woods, compiling manuscripts and filing them in a secret vault. Was he a genius who left the material world to focus on creating immaculate art or a haunted recluse, lost in his private obsessions? Why did this writer, celebrated by the world, stop publishing? Shields and Salerno's investigation into Salinger's epic life transports you from the bloody beaches of Normandy, where Salinger landed under fire, carrying the first six chapters of The Catcher in the Rye . . . to the hottest nightclub in the world, the Stork Club, where he romanced the beautiful sixteen-year-old Oona O'Neill until she met Charlie Chaplin . . . from his top-secret counterintelligence duties, which took him to a subcamp of Dachau . . . to a love affair with a likely Gestapo agent whom he married and brought home to his Jewish parents' Park Avenue apartment and photographs of whom appear here for the first time . . . from the pages of the New Yorker, where he found his voice by transforming the wounds of war into the bow of art . . . to the woods of New Hampshire, where the Vedanta religion took over his life and forced his flesh-and-blood family to compete with his imaginary Glass family.

Deepening our understanding of a major literary and cultural figure, and filled with many fascinating revelations— including the birth defect that was the real reason Salinger was initially turned down for military service; the previously unknown romantic interest who was fourteen when Salinger met her and, he said, inspired the title character of "For Esmé—with Love and Squalor"; the first photographs ever seen of Salinger at war and the last known photos of him alive; never-before-published love letters that Salinger, at fifty-three, wrote to an eighteen-year-old Joyce Maynard; and, finally, what millions have been waiting decades for: the contents of his legendary vault—Salinger is a monumental book about the cost of war and the cost of art.
About the Author
---
David Shields is the author of fifteen books, including the New York Times bestseller The Thing About Life Is That One Day You'll Be Dead; Reality Hunger, named one of the best books of 2010 by more than thirty publications; and Black Planet, a finalist for the National Book Critics Circle Award. His work has been translated into twenty languages.

Shane Salerno is the director, producer, and writer of Salinger, which premiered theatrically in 2013 from the Weinstein Company and will debut as the 200th episode of American Masters on PBS in early 2014. In addition to Salinger, Salerno has written and produced a number of successful films and TV series. He most recently co-wrote and served as executive producer of the critically acclaimed film Savages, directed by three-time Oscar winner Oliver Stone.
Praise For…
---
"Unprecedented . . . Nine years in the making and thoroughly documented . . . Providing by far the most detailed report of previously unreleased material, the book . . . both fleshes out and challenges aspects of the author's legend. . . . [Salinger] has new information well beyond any possible posthumous fiction."
— Hillel Italie

"Eloquently written and exhaustively reported . . . Salinger is an unmitigated success. . . . Shields and Salerno have struck journalistic gold. Salinger is a revelation, and offers the most complete picture of an American icon, a man deified by silence, haunted by war, frustrated in love—and more frail and human than he ever wanted the world to know. . . . A startlingly revealing story."
— USA Today (3.5 out of 4 stars)

"Revealing . . . [A] sharp-edged portrait."
— Michiko Kakutani

"Vivid . . . There are riches here . . . [Salinger] presents a decade's worth of genuinely valuable research . . . Salinger doesn't excuse its subject's personal failings, but it helps explain them: in his fiction, Salinger had a chance to be the good, untraumatized man he couldn't be in real life."
— Lev Grossman

"A stupendous work . . . I predict with the utmost confidence that, after this, the world will not need another Salinger biography."
— John Walsh

"Salinger gets the goods on an author's reclusive life. . . . It strips away the sheen of his exceptionalism, trading in his genius for something much more real."
— Los Angeles Times

"Salinger is the thorny, complicated portrait that its thorny, complicated subject deserves. . . . The book offers the most complete rendering yet of Salinger's World War II service, the transformative trauma that began with the D-Day invasion and carried through the horrific Battle of Hürtgen Forest and the liberation of a Dachau subcamp."
— The Washington Post

"Engrossing . . . There are fascinating and unique accounts that get to the heart of Salinger. . . . The freshest material comes from Salinger's letters, which bring his own voice, often adolescent-sounding, into the commentary. Previous biographers didn't have access to much of this material."
— The Wall Street Journal

"The reminiscences are layered with a stunning array of primary material. . . . Taken as a whole—the memories, the documents, the pictures—the book feels as close as we'll ever get to being inside Salinger's head."
— Entertainment Weekly

"Juicy . . . Salinger is full of fascinating revelations. . . . The most extensive portrait yet of a writer who spent nearly sixty years doing everything in his power to avoid precisely this kind of exposure."
— The Daily Beast

"Unprecedented . . . A masterwork . . . An exquisitely researched and beautifully engineered piece of storytelling about one of modern history's most enigmatic personas."
— Maria Popova

"Refreshingly frank about [Salinger's] many shortcomings and how they might have affected his work . . . Salinger amply documents the author's youthful arrogance and selfishness, his infatuation with his own cleverness and his inability to see the world from the perspective of anyone who wasn't a lot like himself."
— Laura Miller