Character Development: Classroom Ready Materials for Teaching Writing and Literary Analysis Skills in Grades 4 to 8 (Let Them Write: Building Literacy Skills) (Paperback)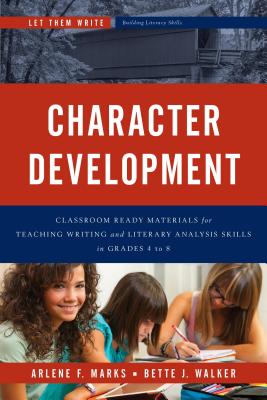 Not available to order
NOT on our shelves now. Usually ships from warehouse in several days.
Description
---
The Let Them Write Series is a classroom-tested, teacher-friendly resource for Language Arts teachers of grades 4 through 8. The program is organized in nine sections, each presenting a buffet of from five to nine 1- or 2-week modules. Each classroom-ready module consists of a series of comprehensive, easy-to-follow lesson plans complete with reproducible handouts and cross-curricular extensions, together creating a proven successful template for the teaching of writing and literary analysis skills. Character Development focuses on the creation of fully-realized, multidimensional protagonists and antagonists. Students practice first-drafting, editing, polishing, and sharing original paragraphs, scenes, and stories featuring the characters they have brought to life. The text can be implemented in the classroom alone or in tandem with the two other titles in the Let Them Write Series - SETTING AND DESCRIPTION and PLOT BUILDING. Also of interest for classroom teachers is the Literacy: Made for All Series -WORDSMITHING: Classroom Ready Materials for Teaching Nonfiction Writing and Analysis Skills in the High School Grades -ENJOYING LITERATURE: Classroom Ready Materials for Teaching Fiction and Poetry Analysis Skills in the High School Grades -STORY CRAFTING: Classroom Ready Materials for Teaching Fiction Writing in the High School Grades.
About the Author
---
Arlene F. Marks holds degrees in Modern Languages and Education from the University of Toronto and has twenty years of experience teaching high school English, Literacy and Writer's Craft at all levels from Pre-Advanced Placement to Remedial. Arlene is the author of From First Word to Last (2013, Legacy Books Press) and the LITERACY: MADE FOR ALL series (2014, R & L Education). She welcomes visitors to her web site, www.thewritersnest.ca. Bette J. Walker holds degrees in English and Education from York University (Toronto) and has thirty years' experience teaching in Junior (grades 3 to 6) and Intermediate (grades 7 and 8) classrooms. She also spent three years as a Language Arts Consultant with the York Region District School Board (Ontario, Canada). Bette is the author of Adolescent Literacy (York Region DSB), THE DRAMA PROCESS series (with Frank Smith, Summit Educational Services), and Teaching Excellence 101 (Edupress).