Liberation Through Hearing (Paperback)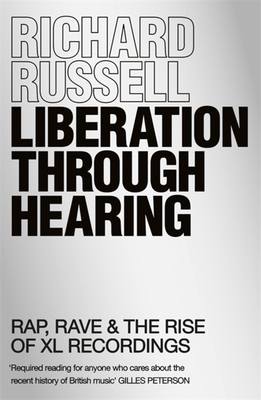 $17.99

Coming Soon. Pre-Order Now!
Description
---
For almost 30 years as label boss, producer, and talent conductor at XL Recordings, Richard Russell has discovered, shaped and nurtured the artists who have rewritten the musical dictionary of the 21st century, artists like The Prodigy, The White Stripes, Adele, M.I.A, Dizzee Rascal and Giggs.

LIBERATION THROUGH HEARING tells the remarkable story of XL Recordings' three decades on the frontline of innovation in music, and Russell's own story; his highs and lows steering the fortunes of an independent label in a rapidly changing industry. This is the portrait of a man who believes in the spiritual power of music to change reality, and of a label that refused to be categorised by genre.

'Taking us from the rap 80s to the rave 90s into the grimy 21st century, Richard Russell is a Firestarter in his own right and his story is a riveting adventure' Simon Reynolds

'Russell reveals his forensic love of music and its strategies. A fascinating read' Damon Albarn

'Required reading for anyone who cares about the recent history of British music' Gilles Peterson
About the Author
---
Richard Russell (b. 1971) is a British record producer, musician and the owner of the British record label XL Recordings. He has nurtured and guided some of the most influential recording artists of our time including Adele, Dizzee Rascal, The Prodigy, M.I.A. and Giggs. As a producer and musician, Russell has made albums with the likes of Gil Scott-Heron, Bobby Womack, Damon Albarn and Ibeyi and most recently launched his own artist project Everything Is Recorded, whose self-titled debut album was nominated for the 2018 Mercury Music Prize.
Praise For…
---
I love XL. I use them as an example of how a brand is built. On great taste—Jay Z

Russell reveals his forensic love of music and its strategies. A fascinating read—Damon Albarn

Richard Russell's vision as a producer and guru to countless artists has always been progressive. This memoir is required reading for anyone who cares about the recent history of British music—Gilles Peterson

If sound is the fifth element, then Richard has nurtured and enhanced some of the most important soundwaves of our time—M.I.A

Taking us from the rap 80s to the rave 90s into the grimy 21st century, Richard Russell isa Firestarter in his own right and his story is a riveting adventure—Simon Reynolds

Rich is the fucking boss. Man has no shoes on—Giggs

The music business is full of kneejerk hyperbole, but XL Recordings, the independent London label run by Richard Russell, remains the most extraordinary enterprise ... a refreshing account of how a tremendously successful record aficionado gradually worked his way round to a kind of Zen humility—Kitty Empire, Observer

The book is a hugely enjoyable personal trip through Russell's life as a producer, artist and label boss.—Electric Sound