Discourse and Identity on Facebook: How We Use Language and Multimodal Texts to Present Identity Online (Bloomsbury Discourse) (Hardcover)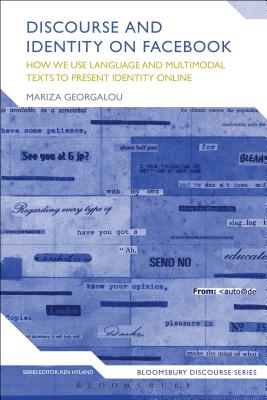 Description
---
Social network sites are dynamic online socio-cultural arenas which give users ample and unprecedented opportunities for self-presentation through the meshing of language with other semiotic modes. With a focus on Facebook, one of the most widely-used online social network sites, this book brings together ideas and concepts related to language online, multimodality, and identity through five topical issues. These include place, time, profession and education, stance-taking, and privacy.
The book features a discourse-centred online ethnography that provides authentic verbal and multimodal Facebook posts in both Greek and English . These are complemented with insights from interviews with Facebook participants. The examples bring to life various engaging instances of self- and other-presentation on Facebook identifying the ways in which users can: - locate themselves in terms of place and time;
- announce activities, share and broaden their expertise and buttress solidarity among colleagues and fellow students;
- communicate emotions, tastes, thoughts, opinions and assessments;
- control the flow of textual information on their Facebook profiles to secure their privacy. Focusing on discourse manifestations of identity, this book also shows how Facebook can function as a space for vernacular literacy practices, a silo of relationships, a digital memory bank, a research tool, a knowledge forum, a cardiograph of a society, and a grassroots channel.
About the Author
---
Mariza Georgalou has a PhD from Lancaster University's Department of Linguistics and English Language, UK. Her research interests include social media discourse and identity construction.