Danish Tutor: Grammar and Vocabulary Workbook (Learn Danish with Teach Yourself) (Paperback)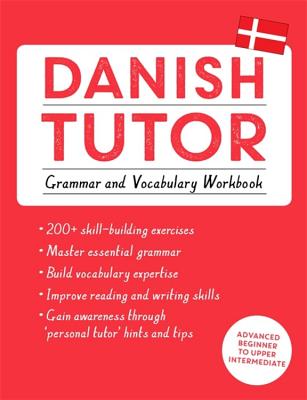 $32.99
Temporarily Unavailable
Description
---
Do you want to communicate easily and freely in Danish?
Master Danish grammar and broaden your vocabulary with your very own Danish Tutor. This contemporary interactive workbook features 200 activities across a range of grammar and vocabulary points with clear goals, concise explanations, and real-world tasks. By studying and practicing Danish grammar you'll understand how the language really works and be able to speak Danish with clarity and ease.
What will I learn?
The Danish Tutor: Grammar and Vocabulary Workbook covers a comprehensive range of the most useful and frequent grammar and vocabulary in Danish. You can follow along unit by unit, or dip in and dip out to address your weak areas. As you progress, you will be introduced to new vocabulary and combine it with the grammar to complete extensive exercises. You will then practice the language through authentic reading and writing practice. You will achieve a solid upper intermediate level of Danish grammar.
Is this course for me?
The Danish Tutor can be used as a standalone course or as a complement to any other Danish course. It offers extensive practice and review of essential grammar points and vocabulary and skills building. The personal tutor element points out exceptions and gives tips to really help you perfect your Danish.
25 Short Learning Units each contain:
Communication goals to guide your studies
Grammar explanations with extensive exercises
Vocabulary presentations and activities
Reading and writing sections to consolidate your learning
About the Author
---
Anne Grydehøj is a Teaching Fellow in the Department of Scandinavian Studies at University College London. She was previously Associate Lecturer in Danish at the University of Kent. She also acts as an Danish language Assessor on behalf of the Institute of Linguists for various UK government agencies.

Jesper Hansen is a Senior Teaching Fellow at University College London. He has worked as Principal Examiner of Danish language for the International Baccalaureate and was previously External Examiner for the Danish language modules at the University of Kent.