Assassin: Special Forces Cadets 6 (Paperback)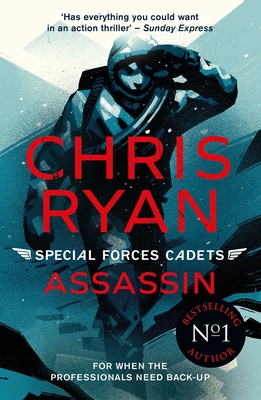 $10.99
Temporarily Unavailable
Description
---
From the bestselling author of STRIKE BACK, Chris Ryan brings this action-packed series to a thrilling conclusion.

Tough enough? Smart enough? Max will require all his skills just to stay alive as a Special Forces Cadet...

Darius, son of an escaped Iranian scientist, is a pupil at an exclusive Swiss school, but his father's former bosses want him back and have no regard for the boy's LIFE or his FREEDOM.
The Special Forces Cadets are sent to PROTECT Darius. When the assassins launch a DEADLY ATTACK, their only escape is into the mountains. Pursued by their enemies, can the cadets triumph and SURVIVE the deadly natural HAZARDS of the alpine winter?
About the Author
---
Chris was part of the SAS eight-man team chosen for the famous Bravo Two Zero mission during the 1991 Gulf War. He was the only member of the unit to escape from Iraq, where three of his colleagues were killed and four captured, for which he was awarded the Military Medal. Chris wrote about his experiences in his book The One That Got Away, which became an immediate bestseller. Since then he has written over fifty books and presented a number of very successful TV programmes.
Praise For…
---
"Has everything you could want in an action thriller . . . an exciting, action-packed page-turner." —Sunday Times