Pilot's Handbook of Aeronautical Knowledge (Paperback)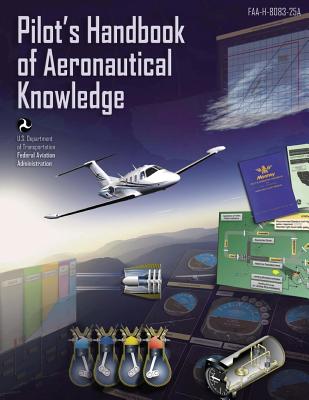 $103.44
NOT on our shelves now. Usually ships from warehouse in several days.
Description
---
Used extensively as a reference source for the FAA Knowledge Exams, this resource includes basic knowledge that is essential for all pilots, from beginning students to those pursuing advanced pilot certificates. This updated guide covers a wide array of fundamental subjects, including principles of flight, aircraft and engine structures, charts and graphs, performance calculations, weather theory, reports, forecasts, and flight manuals. Required reading for pilots for more than 25 years and formerly published as an Advisory Circular (AC 61-23C), this new edition is now listed as an official FAA Handbook.
About the Author
---
The Federal Aviation Administration (FAA) is the national aviation authority of the United States. An agency of the United States Department of Transportation, it has authority to regulate and oversee all aspects of civil aviation in the U.S. The Federal Aviation Act of 1958 created the organization under the name "Federal Aviation Agency", and adopted its current name in 1966 when it became a part of the United States Department of Transportation. The Federal Aviation Administration (FAA), established in 1958, strives to "provide the safest, most efficient aerospace system in the world." It authors the Aviation Instructor's Handbook; Airplane Flying Handbook; The Federal Aviation Regulations/Aeronautical Information Manual (FAR/AIM); The Pilot's Encyclopedia of Aeronautical Knowledge; Aircraft Inspection and Repair; Rotorcraft Flying Handbook; Aviation Weather Services Handbook; Plane Sense; Glider Flying Handbook, Aircraft Weight and Balance Handbook; Seaplane, Skiplane, and Float/Ski Equipped Helicopter Operations Handbook; Powered Parachute Flying Handbook; Instrument Flying Handbook; and Instrument Procedures Handbook. The FAA headquarters are located in Washington, D.C.