Stargazing: Photographs of the Night Sky from the Archives of NASA (Astronomy Photography Book, Astronomy Gift for Outer Space Lovers) (Hardcover)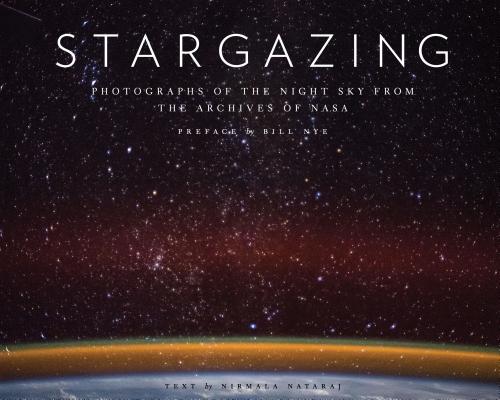 $35.00
ON HAND in at least ONE of our stores. Click through or call for up-to-the-minute availability.
Description
---
Stargazing: Photographs of the Night Sky from the Archives of NASA is a photographic collection of the night sky's most extraordinary phenomena.

These images from the archives of NASA reveal stunning photos of the cosmos, from radiant aurora borealis to awe-inspiring lunar eclipses.

Complete with a preface by Bill Nye, this collection of photographs perfectly captures the wonder of looking up at the night sky.

• Each breathtaking photo is paired with an informative caption about the scientific phenomena it reveals and the technology used to capture it
• Beautiful on display on the coffee table
• A go-to gift for both serious and casual stargazers

This collection of photographs illuminates the darkness of space in a whole new way.

Blending art and science, the magnificent images of Stargazing captures the imagination of anyone interested in astronomy, travel, photography, and space exploration.

• The only book from NASA that focuses solely on the night sky
• A perfect gift for space lovers, stargazers, science geeks, scientists, parents, students, recent graduates, photographers and photography lovers, and NASA fans
• Great for those who loved Earth and Space: Photographs from the Archives of NASA by Nirmala Nataraj, Infinite Wonder: An Astronaut's Photographs from a Year in Space by Scott Kelly, and The Hubble Cosmos: 25 Years of New Vistas in Space by David H. Devorkin and Robert W. Smith
About the Author
---
Nirmala Nataraj is a writer based in New York.

Bill Nye (the Science Guy) is a science educator, actor, writer, and the host of Bill Nye Saves the World. He lives in Los Angeles.