Cut in Half: The Hidden World Inside Everyday Objects (Pop Science and Photography Gift Book, How Things Work Book) (Hardcover)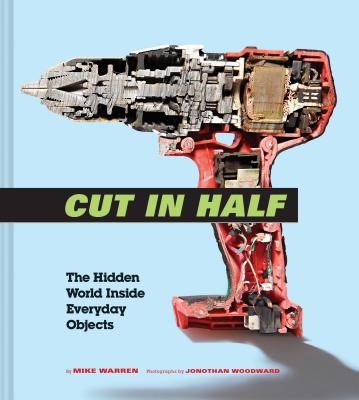 $29.95
ON HAND in at least ONE of our stores. Click through or call for up-to-the-minute availability.
Description
---
What exactly is inside a laptop, a golf ball, a vacuum cleaner, or a novelty singing fish toy? The insides of these and dozens of other objects are revealed in this photographic exploration of the stuff all around us, exposed and explained. With the help of a high-pressure waterjet cutter able to slice through 4 inches of steel plate, designer and fabricator Mike Warren (creator of the popular Cut in Half YouTube channel) cuts into everything from boom boxes to boxing gloves, oil filters to seashells, describing and demystifying the inner workings and materials of each. With a cleverly die-cut case and gorgeously detailed photography, Cut in Half is a fascinating and accessible popular science look at the extraordinary in the everyday.

• Entertaining photo-driven pop science book for curious minds
• Cross section views of household appliances, sports equipment, electronics, toys and games, and more

Fans of The Way Things Work, The Book of Hidden Things, and Things Come Apart will love this book.

This book is perfect for:
• Curious readers of all ages
• Cut in Half YouTube fans
• Pop science fans
• Photography buffs
About the Author
---
Mike Warren is a designer, inventor, and popular science writer steeped in maker culture whose work has been featured in Wired, the New York Times, Popular Scientist, CNET, and New Scientist. He lives in the San Francisco Bay Area.

Jonothan Woodward creates food, product, interior, and lifestyle images for a wide range of clients. He lives in the San Francisco Bay Area.
Praise For…
---
"Designer, inventor, and fabricator Mike Warren decided to look inside pretty much any object he could get his hands on. Rather than simply using a screwdriver to open them up, he opted to use a state-of-the-art, 60,000-psi water jet cutter to slice them in two. Cut in Half, the book, exposes 'The Hidden World Inside Everyday Objects,' from boom boxes to boxing gloves. To accompany the stunning photographs [by Jonothan Woodward], Warren describes the inner workings and materials of each item."
-My Modern Met—-

"Have you ever wished you could look inside the guts of your drill, video game console, or vacuum cleaner? The hidden worlds inside these everyday electronics are on full view in Cut in Half: The Hidden World Inside Everyday Objects , a book of mesmerizing photographs of objects that have been perfectly cut in half. . . . Accompanying each photograph are explanations from Warren, who has been doing this for years on his YouTube channel, that walk us through the amazing complexity of the many apparently simple objects."
-Fast Company—-

"Let your device addict explore the fascinating inner workings of common household items with this book from gadget You Tuber Mike Warren."
--Real Simple—-

"Warren's YouTube videos showing him cutting open power drills and soccer cleats proved so popular that he ended up creating a dedicated channel just for them. To date, he has sliced up more than 80 objects, several dozen of which are included in deluxe photobook, featuring photographs by Jonothan Woodward and annotations by Warren. Although he's cut open iPhones, DSLR cameras, and laptops, one of Warren's favorite object autopsies was the humble clothing iron."
-Wired—-

"Waterjet master Mike Warren bisects items on his You Tube channel to viewers' delight. He now documents his work in his new book Cut in Half: The Hidden World Inside Everyday Objects, peeling open everything from golf clubs to digital cameras with the precision that only a waterjet cutter can provide."
--Make Magazine—-

"If you've ever wondered what it looks like inside a hair dryer, or a baseball, or a Magic 8-ball, this book is for you. Mike Warren cuts things in half with a high-pressure waterjet cutter and then has an explanation of what you're looking at inside. His YouTube channel has videos of the cutting, but the photographs here by Jonothan Woodward give you more details you can pore over. One fun feature: the cover of the book itself is "cut in half" along the center." --GeekDad—-

Holiday Gift Guide Pick "Mike Warren has already racked up thousands of views on his YouTube channel by slicing things in half, but now you can see the effects of his high-pressure waterjet cutter up close in this photo-heavy volume. Five themed chapters include everything from a laptop to a novelty fish singing toy."
-Good Housekeeping —-