Meanwhile in San Francisco: The City in its Own Words (Paperback)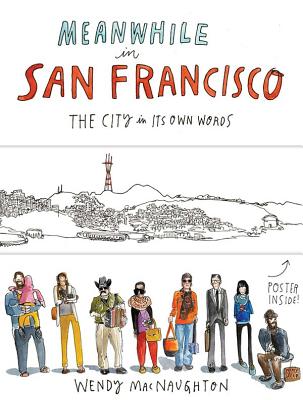 $18.95
ON HAND in at least ONE of our stores. Click through or call for up-to-the-minute availability.
Description
---
Take a stroll through the City by the Bay with renowned artist Wendy MacNaughton in this collection of illustrated documentaries. With her beloved city as a backdrop, a sketchbook in hand, and a natural sense of curiosity, MacNaughton spent months getting to know people in their own neighborhoods, drawing them and recording their words. Her street-smart graphic journalism is as diverse and beautiful as San Francisco itself, ranging from the vendors at the farmers' market to people combing the shelves at the public library, from MUNI drivers to the bison of Golden Gate Park, and much more. Meanwhile in San Francisco offers both lifelong residents and those just blowing through with the fog an opportunity to see the city with new eyes.
About the Author
---
Wendy MacNaughton is a New York Times best-selling illustrator and graphic journalist based in San Francisco. Her previous books include Lost Cat: A True Story of Love, Desperation and GPS Technology and The Essential Scratch & Sniff Guide to Becoming A Wine Expert. Her clients include the New York Times, The Wall Street Journal, and PRINT magazine. She is a contributor to Pop-Up Magazine and a collaborator at Brain Pickings. She lives in San Francisco, California.
Praise For…
---
"Every once in a while, there comes a beautiful work of art that gives rightful tribute to the place we call home. Meanwhile can be the perfect introductory course for people who are new to (or visiting) San Francisco; but it also serves as the perfect love letter to San Francisco and acts as a reminder for all of us who live here to truly embrace, appreciate, and stare longingly at our home in the hopes to witness its true beauty." -SF Weekly
—
-
"If Studs Terkel came back in the next life with a paintbrush instead of a microphone, Meanwhile in San Francisco is the book he might have done. Wendy MacNaughton has captured the beating heart of San Francisco in her off-beat, beautiful, and original drawings of the working life of the town. Funny, poignant, nutty, and wise." -Davia Nelson, NPR's Kitchen Sisters
—
-
"If Studs Terkel, the great oral historian, had taken up drawing, his work might have looked something like what Wendy MacNaughton has created in her irresistibly bighearted new book, Meanwhile in San Francisco: The City in Its Own Words. Like Terkel, MacNaughton gives voice to ordinary people from all walks of life, dignifying them in the process. Her pleasing, unfussy ink-and-watercolor portraits of San Franciscans - 'illustrated documentaries,' as she calls them - capture library patrons, farmers' market vendors, Giants fans, Mission hipsters and old friends hanging out in Chinatown. " - San Francisco Chronicle
—
-
"If you love San Francisco, you'll love this book." -The Bold Italic
—
-
"Like a modern-day Margaret Mead armed with ink and watercolor, not a critic or commentator but an observer and amplifier of voice, MacNaughton plunges into the living fabric of the city with equal parts curiosity and compassion, gentleness and generosity, wit and wisdom, and emerges with a dimensional portrait painted with honesty, humor, and humility." -Brain Pickings
—
-
"Meanwhile in San Francisco: The City In Its Own Words, is an insightful, illustrated compendium of contemporary city life." - Alissa Walker, Gizmodo.com
—
-
"Meanwhile, in San Francisco: The City in its Own Words is like having an insider guide you around San Francisco. Wendy MacNaughton spent months getting to know neighborhoods in San Francisco, and the book tells the story of neighborhoods in the city from the people who know it best." -Design*Sponge
—
-
"We've been enamored of artist-graphic journalist Wendy MacNaughton's breezy-yet-hyper-perceptive sketches, humanizing portraits, and urban tableaus for years now, but it was with this year's Meanwhile In San Francisco that the SF resident became something like our illustrator laureate. The book, the result of McNaughton's lunchtime strolls with her notebook in hand, captures the city through its characters, from bus drivers to Mission hipsters to the folks who pass their days at the public library." - San Francisco Bay Guardian
—
-
"You don't have to live in the Bay Area to appreciate these beautiful sketches of daily life in the city. In addition to her portraits of the locals, MacNaughton playfully illustrates the insides of a burrito and an adorable assortment of dogs." -Pop Candy
—
-