Luka and the Fire of Life (Recorded Books Unabridged) (Compact Disc)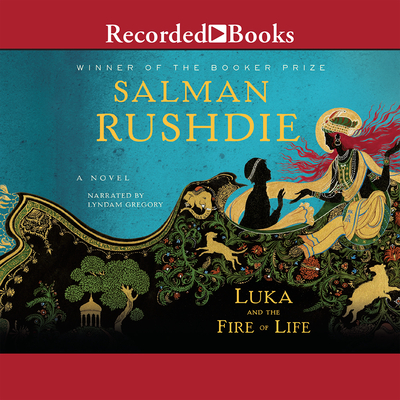 $29.99
Temporarily Unavailable
December 2010 Indie Next List
---
"Why ever do we read and tell those old tales of gods and godesses? Those has-beens are utterly silly! But Luka finds he needs them to save his father -- the Shah of Blah -- from his endless torpor. Master storyteller Rushdie wonderfully and delightfully reminds us why we need our stories, and of the sheer pleasure of words, upon words, upon words."
— Lauren Losaw, The Bookloft, Great Barrington, MA
Description
---
With the same dazzling imagination and love of language that have made Salman Rushdie one of the great storytellers of our time, Luka and the Fire of Life revisits the magic-infused, intricate world he first brought to life in the modern classic Haroun and the Sea of Stories. This breathtaking new novel centers on Luka, Haroun's younger brother, who must save his father from certain doom. For Rashid Khalifa, the legendary storyteller of Kahani, has fallen into deep sleep from which no one can wake him. To keep his father from slipping away entirely, Luka must travel to the Magic World and steal the ever-burning Fire of Life. Thus begins a quest replete with unlikely creatures, strange alliances, and seemingly insurmountable challenges as Luka and an assortment of enchanted companions race through peril after peril, pass through the land of the Badly Behaved Gods, and reach the Fire itself, where Luka's fate, and that of his father, will be decided. Filled with mischievous wordplay and delving into themes as universal as the power of filial love and the meaning of mortality, Luka and the Fire of Life is a book of wonders for all ages.
About the Author
---
Knighted by Queen Elizabeth, named to the Ordre des Arts et des Lettres in France and elected to the American Academy of Arts and Letters, Sir Salman Rushdie is one of the foremost novelists of our time. Winner of the Booker Prize, the Best of the Bookers, and the Booker of Bookers, Rushdie ranks with the best writers of a generation.

The author of sixteen previous books, Rushdie is best known for his second novel, Midnight's Children, which launched him into fame, and The Satanic Verses, which touched off a storm of protest across the Muslim world and resulted in a fatwa issued by the Ayatollah Khomeini of Iran. These two novels together helped shape two themes that have come together to give form to his career. On one hand, he nearly single-handedly defined the shape that Indian novels written in English would take for decades. And on the other he became a symbol of enlightenment and free speech, defiant against the forces of intolerance and fundamentalist religion.

His books often tread a path that navigates these directions in his career. Fascinated both by the form of magic realism and the subject matter of post-colonialism, and by the experiences of various diasporas, Rushdie's works have an uncanny ability to tease the story out of people's sacred truths.

An international celebrity, Rushdie is often in the public eye, whether the focus is on his personal life or his political views. He is also Distinguished Writer-in-Residence at Emory University, and Midnight's Children has been adapted for a film version, to be shot by Canadian director Deepa Mehta.