The Guide to Publishing Audiobooks: How to Produce and Sell an Audiobook (Paperback)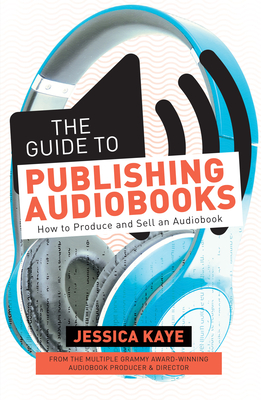 $19.79
Temporarily Unavailable
Description
---
What You Need to Know to PUBLISH YOUR AUDIOBOOK!

The Guide to Publishing Audiobooks has everything you need to know to acquire rights, produce, publish, and distribute audiobooks to expand your audience for both fiction and nonfiction, and how you can increase your bottom line in the process. Multiple Grammy Award-winning audiobook producer and director Jessica Kaye shares invaluable knowledge garnered in her years as an entertainment and publishing attorney, and audiobook publisher, producer, director, and distributor. With her insights, you'll learn how to evaluate a potential audiobook project, obtain the rights for audio publishing, or self-publish your own audiobook.

This comprehensive, easy-to-understand guide shows you how to:

   • Create a high-quality production including best practices for effectively working with narrators, producers, directors, engineers, and sound editors.
   • Choose an appropriate narrator.
   • Understand and manage distribution in the digital age.

Plus, this guide includes examples of commonly used audiobook contracts and explanations of key industry terms so you can feel confident in your business dealings.

Whether you're an independent publisher looking to expand your business or an author trying to grow your readership, The Guide to Publishing Audiobooks is your go-to resource for navigating the audiobook industry.
About the Author
---
Jessica Kaye is an entertainment and publishing attorney at Kaye & Mills (www.kayemills.com) and a multi-Grammy Award-winning audiobook director. She serves on the boards of the Audio Publishers Association, the Southern California chapter of Mystery Writers of America (MWA), and Screamfest Film Festival. Jessica owns Big Happy Family, LLC, an audiobook distributor (www.bighappyfamilyaudio.com). She created and co-edited the anthology Meeting Across the River (BloomsburyUSA, 2005) and contributed a story to Occupied Earth (Polis Books, 2015) and Culprits (Polis Books, 2018.)
Praise For…
---
"Want your voice to be heard? Then start by reading (or listening to) this book. Jessica Kaye's 6 Rules of Audiobook Publishing will make your recordings sound better and reach more listeners." ~Matthew Rubery, author of The Untold Story of the Talking Book

"Jessica Kaye is the best of the best. She was with me syllable for syllable as I read my memoir--she laughed when I did, got choked up when we couldn't help it, and told me how to pronounce words I'd been saying in my head wrong all these years. Recording with Jessica will always be one of the high points of my career as an author. I'm first in line at her studio, hoping to record my next book!" ~Hope Jahren, author of Lab Girl

"Thorough! Exhaustive! Accessible! As I read The Guide to Publishing Audiobooks, these three descriptions came to mind from beginning until end. Far more inclusive than a guide, Kaye has, quite simply, produced the audio publisher's bible. Pen in one hand, bonhomie in the other, she has managed to tell us everything we must know about what it takes to succeed as an audiobook publisher." ~Paul Alan Ruben, writer, two-time Grammy-winning audiobook producer, director, and storytelling teacher

"Start your audiobook journey off right and increase your chances of success in the market with industry veteran Jessica Kaye's comprehensive guide!" ~Michele Cobb, Executive Director, Audio Publishers Association, and publisher of AudioFile Magazine and MMB Media