Great Stories Don't Write Themselves: Criteria-Driven Strategies for More Effective Fiction (Paperback)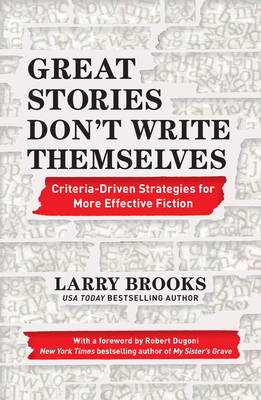 $19.99

NOT on our shelves now. Usually ships from warehouse in several days.
Description
---
One of the most common questions new writers ask professionals is how they wrote their book—what was their process for storytelling? Did they use an outline to plan the book, or write it from the seat of their pants? But really the question should be about the general principles and nature of storycraft—does every part of a story have what it needs to keep readers turning the pages?

Bestselling author and creator of StoryFix.com Larry Brooks changes the sound of the writing conversation by introducing a series of detailed criteria for novelists of every level and genre to refer to while writing, regardless of their preferred writing method. Beginning with the broadest part of the story, the early checklists help writers to ensure that their novel is based on a premise rather than an idea, and gradually hones in on other elements to keep the story moving forward including:

·         dramatic tension
·         narrative strategy
·         scene construction

Readers won't know or care about the process. But what Brooks offers here is a chance for readers to make the most of whichever process they choose, and in doing so cut years off their learning curve.
About the Author
---
Larry Brooks is the award-winning USA Today bestselling author of six novels and four writing craft books, including the bestselling Story Engineering, from Writers Digest Books. He is the creator of a widely respected craft-building website for fiction writers, and frequently teaches at workshops and conferences nationally and internationally. He lives in Chandler, Arizona, with his wife, Laura, who is an artist. He can be reached through his website at storyfix.com.
Praise For…
---
"An important addition to any writer's toolkit."
 —Jordan Rosenfeld, author of How to Write a Page-Turner

"Brilliant!...A must for every new writer's bookshelf!"
 —Jane K. Cleland, two-time Agatha award-winning author of Mastering Suspense, Structure, and Plot and Mastering Plot Twists

"Brimming with all the common sense writers need in order to write uncommon stories."
 —K.M. Weiland, bestselling author of the acclaimed writing guides Outlinign Your Novel, Structuring Your Novel, and Creating Character Arcs

"Larry Brooks has done it again!  In Great Stories Don't Write Themselves, he delivers a clear, concise, easily-digestible roadmap to make our stories work. From the initial story seed to concept to a fully formed premise, he then walks us through each part of a four-part structure, with unwavering clarity. It's the prefect craft book to help aspiring writers turn their writing dreams into reality and an excellent refresher for seasoned novelists." 
—Sue Coletta, award-winning Indie crime writer of the Mayhem series