501 Arabic Verbs (Barron's 501 Verbs) (Paperback)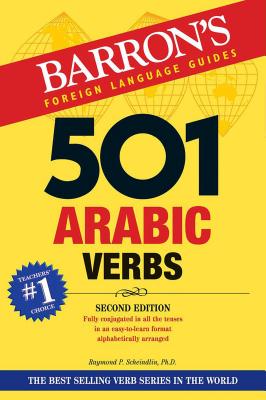 $19.99
ON HAND in at least ONE of our stores. Click through or call for up-to-the-minute availability.
Description
---
Barron's 501 Arabic Verbs is your essential guide to Arabic verbs and verb usage. Each verb is listed alphabetically in easy-to-follow chart form—one verb per page with its English translation. To reflect correct Arabic style, this book is printed in Arabic script, back cover to front and back page to front.
This comprehensive guide to Arabic verbs is ideal for students, travelers, and adult learners. It includes:
The 501 most common Arabic verbs in table format, with Arabic characters and English infinitives at the top of each page
Common idioms with example sentences to demonstrate verb usage
Verbs conjugated in all tenses and forms
A grammar review and a pattern index
Exemplary sentences in English for each verb
About the Author
---
Raymond P. Scheindlin earned a M.H.L. in Hebrew Literature at the Jewish Theological Seminary and a Ph.D. in Arabic Literature at Columbia University. Dr. Scheindlin served on the faculties of McGill University and Cornell University, and was a professor of medieval Hebrew literature at The Jewish Theological Seminary of America in New York. He has been a visiting professor at the Hochschule für jüdische Studien in Heidelberg, Germny and at Harvard University. He specializes in medieval Hebrew poetry, with a special interest in Spain and other regions of Arabic culture. He is also active as a literary translator of medieval and other Hebrew texts. Dr. Scheindlin is a former Guggenheim and Cullman Fellow, as well as a recipient of the Cultural Achievement Award of the National Foundation for Jewish Culture. He is a fellow of the American Academy of Jewish Research and is on the editorial boards of several academic journals.