How Quickly She Disappears (Large Print / Library Binding)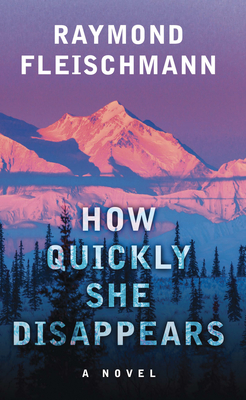 $48.59
Email or call for price.
Great Reads
---
"How Quickly She Disappears is a Thriller with a capital T!! Set in Alaska with flashbacks to a childhood in Pennsylvania, the story follows Elisabeth, who is still haunted by and feeling partially responsible for the disappearance of her twin sister, Jacqueline, when they were 11. It's been 20 years, but when a stranger, Alfred, shows up claiming to have proof Jacqueline is still alive, Elisabeth sets out to assuage her guilty conscience. Alfred is demanding. Alfred demands frightening things of her. And as he teases her with more and more information, the stakes and demands escalate. How far will she go? Author Raymond Fleischmann will put you to the test. Your heart will race. Your breathing will become shallow. The pages will fly. This thriller is unlike any you've ever read!"
— Nancy Simpson-Brice, Book Vault, Oskaloosa, IA
Description
---
The Dry meets The Silence of the Lambs in this intoxicating tale of literary suspense, set in the relentless Alaskan landscape, about madness and obsession, loneliness and grief, and the ferocious bonds of family....

My proposition is very simple: I am going to ask you for three gifts, and for each gift you deliver, I will take you one step closer to Jacqueline. It's been twenty years since Elisabeth's twin sister, Jacqueline, disappeared without a trace. Now thirty-year-old Elisabeth is living far from home in a small Alaskan town. She's in a loveless marriage and has a precocious young daughter she loves more than anything but who reminds her too much of her long-missing sister. But then Alfred, a dangerous stranger with a plan of his own, arrives in town and commits an inexplicable act of violence. And he offers a startling revelation: He knows exactly what happened to Elisabeth's sister, but he'll reveal this truth only if she fulfills his three requests. Increasingly isolated from her neighbors and imprisoned by the bitter cold and her own obsession, Elisabeth can almost hear her sister's voice saying, Come and find me. And so she will, even if it means putting herself--and her family--in danger.
About the Author
---
Raymond Fleischmann received his MFA from Ohio State University, and he's earned scholarships and fellowships from Richard Hugo House, the Sewanee Writers' Conference, and others. He lives in Indiana with his wife and three daughters. How Quickly She Disappears is his first novel.