Cinder (Lunar Chronicles #1) (Compact Disc)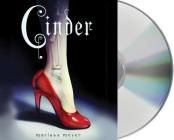 $39.99
NOT on our shelves now. Usually ships 1-10 business days from warehouse. ETA will be updated with email order confirmation.
Description
---
The #1 New York Times Bestselling Series
A wicked mash-up of fairy tale and Terminator--set in a Star Wars kind of world--Marissa Meyer's Cinder is a fresh and fiercely ingenious futuristic retelling of Cinderella
Humans and androids crowd the raucous streets of New Beijing. A deadly plague ravages the population. From space, a ruthless lunar people watch, waiting to make their move. No one knows that Earth's fate hinges on one girl. . . .
Cinder, a gifted mechanic, is a cyborg. She's a second-class citizen with a mysterious past, reviled by her stepmother and blamed for her stepsister's illness. But when her life becomes intertwined with the handsome Prince Kai's, she suddenly finds herself at the center of an intergalactic struggle, and a forbidden attraction. Caught between duty and freedom, loyalty and betrayal, she must uncover secrets about her past in order to protect her world's future.
About the Author
---
Marissa Meyer was born and raised in Tacoma, Washington, home of Almond Roca and Stadium High School, which was made famous when Heath Ledger danced down the stadium steps in 10 Things I Hate About You. Marissa didn't actually go to Stadium High School, but she did attend Pacific Lutheran University, where she earned her bachelor's degree in Creative Writing. She still lives in Tacoma, now with her husband. Cinder is her YA debut. Rebecca Soler is a film and voiceover actress who won a 2009 AudioFile Earphones Award for her narration of After by Amy Efaw. Her audiobook credits include work by authors such as Judy Blume, James Patterson and Sarah Dessen. Soler has also narrated the popular young adult series The Lunar Chronicles by Marissa Meyer. Her voice over credits include various video games, like Star Wars: The Old Republic and Red Dead Redemption and television shows such as Pokemon, Yu-Gi-Oh, and Teenage Mutant Ninja Turtles. She lives in New York City.
Praise For…
---
"Rebecca Soler's sweet but firm voice conducts the listener through a fresh, quirky take on an old trope: reimagined fairytales…Overall, this is good fun, and provides encouragement for the next adventure." – Locus
"Narrator Rebecca Soler captures the determination and independence that make Cinder a compelling character…the story will keep listeners engaged and awaiting the subsequent titles." – School Library Journal
"The audiobook is delightful. Rebecca Soler brings all the characters to life with such distinct voices that it's like listening to a play. I was riveted. And here's the best part – the book is absolutely suitable for all ages." – Record-Courier
"Soler's narrations, both confident and well paced, flow effortlessly. She masters major characters' voices…Soler is also very effective at quick transitions between accents in dialogue-heavy scenes. The combination of Soler's superb performance and Meyer's captivating storytelling creates a pair of tour-de-force audiobooks.' – Horn Book Magazine
"This was actually the first audiobook I ever listed to on my phone and I fell in love with the portability as well as Rebecca Soler's amazing narration…Rebecca reads Cinder perfectly." – USA Today Happily Ever After Blog