National Geographic Photo Ark Insects: Butterflies, Bees, and Kindred Creatures (The Photo Ark) (Hardcover)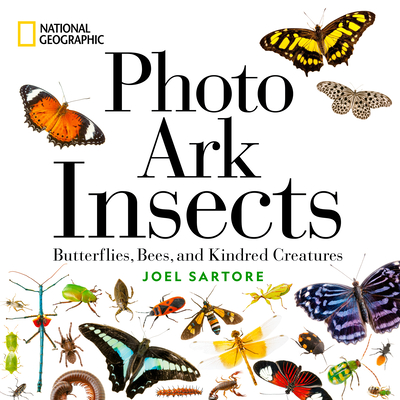 $30.00

NOT on our shelves now. Usually ships from warehouse in several days.
Description
---
Next in the wildly popular Photo Ark franchise, this book uses Joel Sartore's signature portraits to highlight the amazing features and behaviors of the world's insects, spiders, and kin.

When the pandemic year forced photographer Joel Sartore to stay home in Nebraska instead of traveling to zoos and wildlife centers around the world, what did he do? He went outside and explored bugs. This book reveals more than 100 species of insects, spiders, and related creatures—some exotic, but many common in fields, forests, and neighborhoods. Amazing portraits in Sartore's signature style—against a black or white background—capture these creatures' bulbous eyes, probing antennae, and iridescent bodies in living color. Alongside, entertaining text explains the basics of insect bodies, lives, and behavior, rich with unforgettable details. Who knew that a South American butterfly emerges from a chrysalis that glistens like gold? Or that one species of beetle has pincers as long as the rest of its body? Or that wolf spiders can purr?

For budding scientists—and for the kid in all of this—this collection of amazing insect life will intrigue, educate, and amuse all lovers of creepy, crawly creatures everywhere.
About the Author
---
Joel Sartore is an award-winning photographer, speaker, author, conservationist, and the 2018 National Geographic Explorer of the Year. He is a regular contributor to National Geographic magazine and is the author/photographer of 8 National Geographic books for adults and children. His hallmarks are a sense of humor and a Midwestern work ethic. He lives in Lincoln, Nebraska.