Hot, Cold, Heavy, Light, 100 Art Writings 1988-2018 (Hardcover)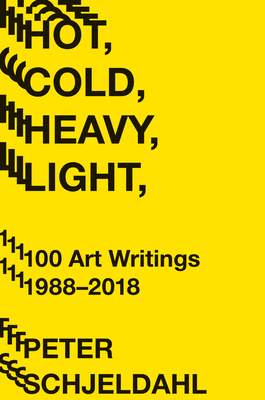 $28.00
ON HAND in at least ONE of our stores. Click through or call for up-to-the-minute availability.
About the Author
---
Peter Schjeldahl has been the art critic for The New Yorker since 1998. Prior to that, he wrote art criticism for Seven Days and the Village Voice. A poet as well as a critic, he was the recipient of the 2008 Clark Prize for Excellence in Art Writing. He lives in New York City.
Jarrett Earnest is the author of What it Means to Write About Art: Interviews with Art Critics (2018). A frequent lecturer on contemporary art, he lives in New York City.
Praise For…
---
"Peter Schjeldahl is a great artist. . . . His specialty is the searching, summative essay of a few pages on a single artist. . . I know that art is only a small part of living, but it's also true that there are people whose makeshift faith lies in the best things human beings have made. Schjeldahl grants those artifacts a corresponding dignity, with all the meaning we knew they had but could not describe ourselves. It's astonishing; it astonishes."
— Charles Finch
"Bruce is no longer The Boss; Peter Schjeldahl is! Hot, Cold, Heavy, Light is the apex of artistic criticism and commentary."
— Steve Martin
"The great New Yorker art critic writes like an angel about everyone from Vermeer to Picasso, Donatello to Andy Warhol, in beautiful, enjoyable, accessible essays across 30 years."
— Philadelphia Inquirer
"This is a rapturous read for art lovers and all who appreciate dynamic critical essays."
— Booklist