Miriam the Medium (Paperback)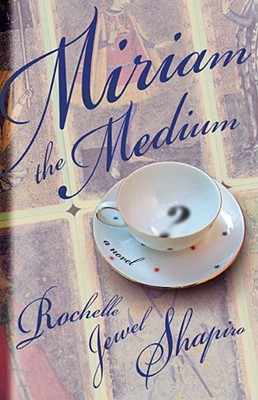 $21.95

NOT on our shelves now. Usually ships from warehouse in several days.
Description
---
In the tradition of Susan Isaacs comes a charming debut novel featuring a lovable phone psychic, whose talents will either save her family from financial ruin -- or ruin her family altogether.

What do you do when your husband's business is failing, your daughter is ashamed of you, and your faith in your own talents hits rock bottom? Miriam is a modern-day Long Island housewife, who just happens to be a professional phone psychic. But while she can heal broken hearts, mend relationships, and help others find new careers, her own life is in shambles.

It starts with the family business. Her husband, Rory, is working every spare minute to keep his business, Mirror Pharmacy, afloat, but no matter what cost-saving measures he takes, a profit seems farther and farther away. Using her gift, Miriam tries to channel to the heart of the problem, but Rory's patience with her "readings" has worn as thin as his cash flow. Then there is Miriam's teenage daughter, Cara, who cannot stand to be in the same room with her, much less listen to any psychically generated advice. Now involved with a particularly bad-news boyfriend, she's too in love to take Miriam's warnings seriously. Miriam struggles to maintain a positive outlook -- things are bad, but they can always be worse, goes her mantra. So when a persistent agent proclaims her talents remarkable and marketable, Miriam decides to take action. But will going public ruin her family's already questionable standing in their prim Long Island community? And will her trusted spirits -- her dear departed Dad and Russian grandmother, Bubbie -- remain faithful if she "sells out"? Miriam struggles to sort through her escalating troubles and trust her abilities in times of crisis, even as her visions are becoming too cloudy to interpret.

In a quirky tale full of humor and heartache, Rochelle Shapiro captures the universal desire to find one's true self, no matter the opinions of others. Smart and sassy, Miriam the Medium is the debut of a talented and imaginative author -- one who is able to conjure with words and spirit.
About the Author
---
Rochelle Jewel Shapiro, like her narrator, is the granddaughter of a Russian-born psychic. She has been published in The New York Times and in numerous literary magazines. Her short story "The Wild Russian" appeared in Father: Famous Writers Celebrate the Bond Between Father and Child (Pocket Books). She lives in Great Neck, New York.