Telex from Cuba: A Novel (Hardcover)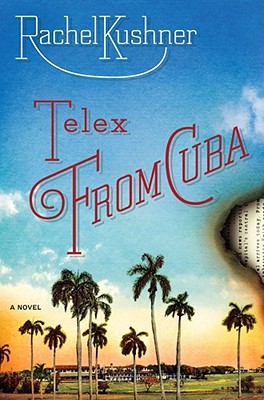 Not available to order
Hard to Find. Not available to order.
July 2008 Indie Next List
---
"Set in the last days of Cuba's golden age (at least, for American businessmen), this saga, at once familial and national, chronicles the drama of Castro's coming coup upon a family stuck in the center of an unstoppable storm. Kushner's storytelling -- as detailed as it is colorful; as truthful as it is fictional -- reads like a vast mural in prose, covering the reader's imagination with pages of forceful action and forthright emotion."
— Steve Shapiro, Rainy Day Books, Fairway, KS
Description
---
Rachel Kushner has written an astonishingly wise, ambitious, and riveting novel set in the American community in Cuba during the years leading up to Castro's revolution -- a place that was a paradise for a time and for a few. The first novel to tell the story of the Americans who were driven out in 1958, this is a masterful debut.

Young Everly Lederer and K. C. Stites come of age in Oriente Province, where the Americans tend their own fiefdom -- three hundred thousand acres of United Fruit Company sugarcane that surround their gated enclave. If the rural tropics are a child's dreamworld, Everly and K.C. nevertheless have keen eyes for the indulgences and betrayals of the grown-ups around them -- the mordant drinking and illicit loves, the race hierarchies and violence.

In Havana, a thousand kilometers and a world away from the American colony, a cabaret dancer meets a French agitator named Christian de La Mazière, whose seductive demeanor can't mask his shameful past. Together they become enmeshed in the brewing political underground. When Fidel and Raúl Castro lead a revolt from the mountains above the cane plantation, torching the sugar and kidnapping a boat full of "yanqui" revelers, K.C. and Everly begin to discover the brutality that keeps the colony humming. Though their parents remain blissfully untouched by the forces of history, the children hear the whispers of what is to come.

At the time, urgent news was conveyed by telex. Kushner's first novel is a tour de force, haunting and compelling, with the urgency of a telex from a forgotten time and place.
About the Author
---
Rachel Kushner is the bestselling author of The Flamethrowers, a finalist for the National Book Award and a New York Times Top Ten Book of 2013; Telex from Cuba, a finalist for the National Book Award; and The Mars Room. She lives in Los Angeles.
Praise For…
---
"Multilayered and absorbing... Studded with illuminating images....Kushner has fashioned a story that will linger like a whiff of decadent Colony perfume." — Susann Cokal, The New York Times Book Review (cover review)

"With its sharp detail and precisely drawn characters, Telex from Cuba offers a compelling look at a paradise corrupted." —People

"Telex From Cuba exerts the mysterious pull of a super-saturated postcard from a distant land, sent to you by a stranger. Kushner brilliantly transforms her family history— and history — into a page-turning, elegantly intelligent, and politically enlightening novel that rings as true as anything. Hers is an epic achievement." —Heidi Julavits, author of The Uses of Enchantment

"Imagination and intelligence luxuriate in Rachel Kushner's fascinating first novel. I marvel at how Kushner blends psychological and political realities, corporate America and insurgent Cuba, into a vivid diptych of the days before Castro's revolution. Rich in compelling characters and historical events, Telex From Cuba is a revelatory, tenderhearted, and powerful work." —Lynne Tillman, author of American Genius, A Comedy

"Telex From Cuba is a prodigious work, sparking into life throughout its pages, beautifully balanced in its views of plantation society and the revolutionary force that ultimately overthrows it, written without bombast or self-referring language, as if the writer is so intent on the people she portrays, she writes of them with a kind of rare innocence, the innocence of the true observer who submits to the power of the tale she tells." —Paula Fox, author of The Coldest Winter

"A riveting drama. Given the recent Cuba headlines, Kushner's tale, passionately told and intensively researched, couldn't have come at a more opportune time." —Publishers Weekly

"Castro's coup serves as a riveting backdrop...gorgeously written." —Kirkus Reviews (starred review)

"Kushner has written a gripping tale of what it was like to live through a momentous time. It is a powerful, haunting look at the human side of revolution." —Booklist

"Through the eyes of the innocent and those that are world weary, Rachel Kushner creates a mesmerizing and deeply intelligent tale of the unraveling of the privileged and at times surreal life of Americans in Cuba in the 1950s. Telex From Cuba is a heady and richly imagined tapestry." —Lisa Fugard, author of Skinner's Drift

"As a portrait of the 'other' 1950s Cuba, this novel is a departure from most others of its kind. Emphatically 'American' in its point of view and story, Telex offers a glimpse of how American executives and their families lived in Cuba during that crucial epoch of change, and, as such, will offer readers a refreshingly eye-opening account of what went on behind the corporate scenes and in the back rooms of power." —Oscar Hijuelos, author of The Mambo Kings Play Songs of Love and A Simple Habana Melody