Nolo's Guide to Social Security Disability: Getting & Keeping Your Benefits (Paperback)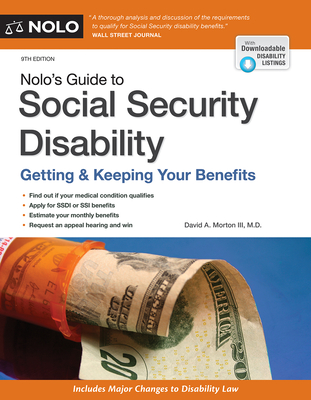 $39.99
Temporarily Unavailable
Description
---
Qualify for Social Security disability benefits, quickly and easily
This comprehensive and compassionate book covers both SSDI and SSI, shows you how to prove a disability, and explains how your age, education, and work experience affect your chances. Parents will find special information about benefits available to children with a disability. Learn how to:
find the disability criteria for your medical condition
prove the severity of your disability
appeal if you're denied benefits
work part time while keeping your benefits
prepare for a Continuing Disability Review
and more.

Plus, this book is packed with filled-in samples of all the forms you'll need, including the SSDI and SSI disability applications. This edition covers recent major changes, including:
updated disability listings for over 65 medical conditions
new rules concerning hearings and evidence, and
changes in how Social Security considers evidence from treating doctors and other medical providers.