The Multiversity Deluxe Edition (Hardcover)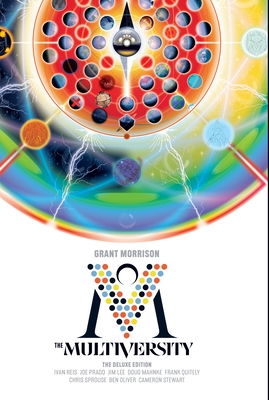 $54.99
NOT on our shelves now. Usually ships from warehouse in several days.
Description
---
THE #1 NEW YORK TIMES BESTSELLER

The biggest adventure in DC's history is here! Join visionary writer Grant Morrison, today's most talented artists, and a cast of unforgettable heroes from 52 alternative Earths of the DC Multiverse! Prepare to meet the Vampire League of Earth-43, the Justice Riders of Earth-18, Superdemon, Doc Fate, the super-sons of Superman and Batman, the rampaging Retaliators of Earth-8, the Atomic Knights of Justice, Dino-Cop, Sister Miracle, Lady Quark and the latest, greatest Super Hero of Earth-Prime: YOU!

THE MULTIVERSITY is more than a multipart comic book series. It's a cosmos spanning, soul-shaking experience that puts YOU on the frontline in the battle for all creation against the demonic destroyers known as the Gentry!

Featuring artwork by Ivan Reis (JUSTICE LEAGUE), Frank Quitely (ALL-STAR SUPERMAN), Cameron Stewart (BATGIRL) and many others, THE MULTIVERSITY tells an epic tale that span 52 Earths.

Collects THE MULTIVERSITY #1 and 2, THE MULTIVERSITY GUIDEBOOK #1 and MULTIVERSITY issues: THE SOCIETY OF SUPER-HEROES #1, THE JUST #1, PAX AMERICANA #1, THUNDERWORLD #1, MASTERMEN #1 and ULTRA COMICS #1.
About the Author
---
Grant Morrison has been working with DC Comics for more than twenty years, beginning with his legendary runs on the revolutionary titles ANIMAL MAN and DOOM PATROL. Since then he has written numerous best-sellers -- including JLA, BATMAN and New X-Men -- as well as the critically acclaimed creator-owned series THE INVISIBLES, SEAGUY, THE FILTH, WE3 and JOE THE BARBARIAN. Morrison has also expanded the borders of the DC Universe in the award-winning pages of SEVEN SOLDIERS, ALL-STAR SUPERMAN, FINAL CRISIS and BATMAN, INC., and he is currently reinventing the Man of Steel in the all-new ACTION COMICS.
    In his secret identity, Morrison is a "counterculture" spokesperson, a musician, an award-winning playwright and a chaos magician. He is also the author of the New York Times best-seller Supergods, a groundbreaking psycho-historic mapping of the superhero as a cultural organism. He divides his time between his homes in Los Angeles and Scotland.
Praise For…
---
"Grant Morrison and his latest descent down the rabbit hole—The Multiversity—touch on a sense of scale and complexity unique in comics, let alone any entertainment medium."—Paste (Best Comic Books of 2015 list)

"No creator understands and utilizes this aspect of the DC Universe or makes it work to his advantage better than writer Grant Morrison. Say what you will about some of his missteps (Final Crisis anyone?). More than anyone else, he understands that utilizing that epic grandness is the key to understanding DC."—NERDIST

"Grant Morrison's The Multiversity is everything that fans have been patiently waiting for."—IGN

"Morrison's The Multiversity has been an immensely entertaining miniseries, giving him the opportunity to explore different elements of superhero comics through stylized one-shots set on different worlds in DC's multiverse."—A.V. CLUB/THE ONION

"The latest collaboration between writer Grant Morrison and artist Frank Quitely, a pairing that consistently puts out career-defining work."—ENTERTAINMENT WEEKLY

"Morrison is bending the "reality" of superheroes—and ourselves—again."—WIRED

"Overall, the The Multiversity has been a compelling series."—POPMATTERS