Saga of the Swamp Thing Book One (Paperback)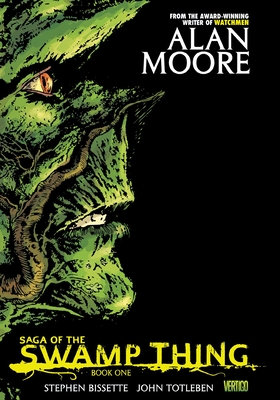 $19.99
ON HAND in at least ONE of our stores. Click through or call for up-to-the-minute availability.
Staff Reviews
---
"Alan Moore's 40+ issue run on Swamp Thing is an experience that is truly something to be cherished. With it, the author gives us the first mainstream title to toss aside the comics code. The book that gave birth to the Vertigo imprint (paving the way for titles like Sandman, Preacher, and Fables). The comic that introduced the world to John Constantine; and readers willing to give it a shot, will be treated to an impossibly epic tale that will take you to haunted houses, introduce you to were-women and aquatic vampires, pull you deep into the Earth itself, drag you through Hell and back, and then shoot you through the stars and across an entire universe. But the simple truth is that for all of its monsters, death and demons, this is a book about love and loyalty, pure and simple. Yes, comic books can give you nightmares. Yes, comic books can make you cry. Yes, comic books can achieve a certain type of profound beauty that is simply impossible for any other medium to duplicate. Mr. Moore's Saga of the Swamp Thing makes all of those things look easy." - Ray
— From
Ray's Staff Picks
Description
---
Before
Watchmen
, Alan Moore made his debut in the U.S. comic book industry with the revitalization of the horror comic book
The Swamp Thing
. His deconstruction of the classic monster stretched the creative boundaries of the medium and became one of the most spectacular series in comic book history.
With modern-day issues explored against a backdrop of horror, The Swamp Thing stories became commentaries on environmental, political and social issues, unflinching in their relevance. Saga of the Swamp Thing Book One collects issues #20-27 of this seminal series including the never-before-reprinted Saga of The Swamp Thing #20, where Moore takes over as writer and concludes the previous storyline.
Book One begins with the story "The Anatomy Lesson," a haunting origin story that reshapes Swamp Thing mythology with terrifying revelations that begin a journey of discovery and adventure that will take him across the stars and beyond.
About the Author
---
Alan Moore is perhaps the most acclaimed writer in the graphic story medium, having garnered countless awards for works such as Watchmen, V for Vendetta, Swamp Thing and Miracleman. He is also the mastermind behind the America's Best Comics line, through which he has created (along with many talented illustrators) The League of Extraordinary Gentlemen, Promethea, Tom Strong, Tomorrow Stories and Top Ten.